Call of Duty: Warzone Caldera map release date, overview, and details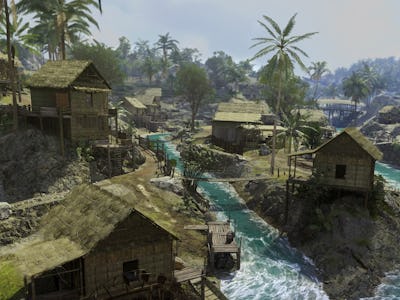 Activision
Call of Duty: Vanguard is the latest entry in the acclaimed first-person shooter series, and this installment sends players to World War II. Vanguard will be integrated into the Warzone and Black Ops Cold War ecosystem, but this time, the mega-popular battle royale will be getting a new map called "Caldera" that will launch in December 2021.
The implementation of Caldera will be the most substantial change in the history of Warzone, as it will mark the departure of Verdansk, which has been in the game since day one. In 2021, Verdansk underwent a slight alteration with its 1984 edition, but the majority of the map layout remained intact. For the first time ever, Warzone will get a brand new map when the Vanguard integration goes through. Here, we'll dive into everything we know about Caldera, including details on its features, release date, and what to expect from it.
Warzone Caldera map release date
The new Warzone map, Caldera, will be implemented on December 9, alongside the Vanguard integration and the game's first season of content. However, players who purchase Vanguard gain 24-hour early access to the integration, including the Caldera map on December 8. The map and integration were originally supposed to go live on December 2, but it was delayed.
In addition, Rebirth Island will remain, though it appears like the small map will undergo some changes to match the WWII aesthetic. However, Verdansk will cease to be, at least based on the wording from Activision itself.
Warzone Caldera map
Activision has finally revealed a map of Caldera, which will be roughly the same size as Verdansk. Caldera will have 15 different hubs, with hundreds of points of interest sprinkled throughout.
Below are all the new Caldera hubs:
Arsenal
Docks
Runway
Ruins
Mines
Peak
Beachhead
Village
Lagoon
Airfield
Fields
Sub Pen
Power Plant
Capital
Resort
A Call of Duty blog post goes deep into all 15 new areas, which vary from jungles, mines, villages, and even sections that are based on famous multiplayer maps like Shipment.
Is there a Warzone Caldera trailer?
There is a trailer, though it's presented in a cinematic way, making it hard to totally gauge how things will work in-game. Nonetheless, this is the best look we've had at the new map, and there's plenty to take in.
One of the most glaring takeaways is that Caldera is much more vibrant than Verdansk, with lots of greenery, and a greater focus on nature. This is clearly shown in the trailer above.
Warzone Caldera map overview
Beyond the colors, the new Warzone Caldera map will have running rivers and waterfalls, which is a huge leap forward. This will hopefully give the map a dynamic feeling, with immersion at the forefront.
The other main takeaway is that the new map seems to be leaning much more into nature than Verdansk. While Caldera will certainly have its fair share of buildings and urban areas, much of it is covered in hills, mountains, trees, and varied terrain. There was even a cave that appeared during the short teaser, which could be really interesting from a gameplay perspective.
The emphasis on nature will ideally make traversing the map more fun, since there will presumably be more cover, with multiple ways to get around.
"Our goal was to create a fresh, new experience for Call of Duty players by breaking out of the war-torn world of Verdansk," said Hodge. "[We wanted to] create an atmosphere that is vibrant, alive, and it really opens the doors to how we can craft the narratives and events."
Finally, one of the biggest changes is the implementation of planes, which will allow players to compete in dogfights. Verticality will be a major factor with Caldera.
Aside from the map itself, the Vanguard integration will come with the most mechanical changes Warzone has ever received.
Vanguard Royale and Battle Royale
When the integration goes live on December 9, there will be two main Caldera modes: Vanguard Royale and Battle Royale.
Battle Royale will be the traditional mode you know and love, allowing you to use all Modern Warfare, Cold War, and Vanguard weapons, along with every Operator released up to this point.
Vanguard Royale, on the other hand, will only feature Vanguard weapons, vehicles, floor loot, and Operators, with specific in-game events that are exclusive to this mode. According to Activision, "times for Circle Collapses are altered to offer a different pace of play, especially with dogfighting overhead."
Traditional Rebirth Resurgence and Mini Royale will also be available.
Gulag
Players will respawn into Caldera with the weapons and equipment given to them in the Gulag, much like Iron Trials '84. This makes it slightly easier to start off on the right foot after coming back from the Gulag.
Loadout Drops and other items
Arguably the most important change is that Loadout Drops will only be buyable after the free Loadout Drop event occurs in a match, effectively leveling the playing field. Oftentimes in Warzone's current state, players can get lucky and find a boatload of cash right away, allowing them to collect their Loadout Drop, and stomp the competition before the first circle closes.
The Dead Silence Field Upgrade, Stun Grenades, Heartbeat Sensors, dual-wield melee weapons, and general melee attacks will all be nerfed following the integration while Stopping Power will be removed entirely. Most lethal equipment, Snapshot Grenades, Stims, and Decoy Grenades will all be buffed.
Gas mask animations
We've all been there — you're at the final stage of a match and you have to dip into the gas to maneuver around your opponent. But then, your foe appears and just as they do, your gunfire is interrupted as you take your gas mask off, getting you eliminated in the process. When the integration takes place, these animations won't be as intrusive, though Activision still says it will favor "the combat advantage to those safely inside the circle."
Shallow Water
You won't be able to fully swim in Caldera, but players will be able to traverse through shallow waters, granting them the effects of the Cold-Blooded perk in the process. In addition, when a fire-based piece of equipment is thrown at the water, it will create the effects of a Smoke Grenade, which is nifty.
Contracts
New contracts such as Supply Drop, Big Game Bounty, and Top Secret will all be added, along with public events. This will change the flow of the match, giving you little incentives to complete objectives as you earn cash and gather loot.
There are still a number of questions we have about the Vanguard integration. Will it still support the Modern Warfare engine? What new perks (if any) will be added? Will Vanguard weapons feature the same or similar stats as they do in multiplayer? We'll find out soon enough.
Remember, all of your progression from Modern Warfare, Cold War, and now Vanguard, will carry over to Warzone once the integration happens on December 9.
Warzone Caldera map Ricochet anti-cheat
Aside from the new Pacific map itself, Warzone will finally get an anti-cheat system alongside the Vanguard integration. Since its launch, Warzone has been plagued by cheaters and as time has gone on, the problem has only gotten worse.
The anti-cheat software is called Ricochet and it seems to be sophisticated enough to work on the backend of someone's computer, rather than on an account basis. This will prevent users from simply creating a new account when banned. This, too, will go live on December 9.
Call of Duty: Vanguard will launch on November 5, while Warzone Pacific is set to release on December 9.
This article was originally published on