New The Sims 4 update makes it the most inclusive franchise in gaming
Customizable pronouns are a welcome addition for trans and non-binary players.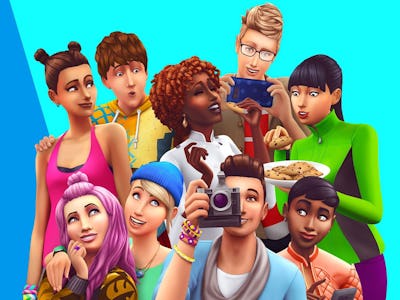 EA
A new update to The Sims 4 is adding customizable pronouns, publisher EA announced on Tuesday. This push to move the game's character creation system away from binary gender determinations is just the latest in a long line of inclusivity improvements that the franchise is known for, as well as EA's own commitment to diversity. In addition to supporting a diverse player base, the update also helps normalize the experience of LGBTQ+ people. Is there a better gaming franchise out there in terms of exclusivity? That's tough to say, but probably not.
A long-awaited change — Sims players have been expecting this update since Maxis, the developer of The Sims 4, shared back in November that they were looking into customizable pronoun options for the game. In a dev diary detailing the new update, the team said, "This is something that has actually been on our minds for quite some time before we formally announced it." The Sims community has been vocal about the desire for the ability to customize pronouns, having petitioned publisher EA in April of last year to make more inclusive options.
This new update follows the long history of Sims games pushing for inclusivity. The original Sims recognized same-sex partnerships as equal to those of straight couples when it was released in 2000, a whole 15 years before marriage equality was granted across the United States.
In 2016, updates to The Sims 4 added more customization for the way Sims express gender. With the update, players could choose a Sims preference in traditionally masculine or feminine clothes, if they could get pregnant, or whether they sit using the toilet. All these options were made separate from the initial option of gender for a Sim, allowing for a broader range of representation.
However, for players who don't use binary pronouns like he/him/his or she/her/hers, it still made an obstacle for a complete representation of the player. Those who identified outside of the traditional binary were subject to Sims being misgendered due to the lack of customization. When a Sim comes home from work, pronouns appear in a popup. The game also would use gendered terms for Sims.
Grammar refresh — All of this is changing with the new customizable pronouns update. In addition to making a dialogue to choose a Sim's pronouns from the most common options of he/him/his, she/her/hers, or they/them/theirs. The game is also giving players the option to create custom pronouns. The new utility in Create-A-Sim has input boxes for multiple parts of speech as well as a handy tool that shows the input in an example sentence just in case you can't remember exactly what every grammatical form means.
This Sims customizable pronouns update was made with the help of LBTQ+ organizations It Gets Better and GLAAD. In working with these organizations EA and Maxis sought to "learn more about how pronouns are used, particularly by trans and nonbinary people" and discovered "all of the different complex areas that binary gender was present in The Sims 4."
What's Next? — With modern games like Cyberpunk 2077 promising inclusive character creation but tying pronouns to the pitch of the voice, there is a continued need for studios to commit to including options for the diverse community of players who consume these titles. More than just representation for those players who want to see themselves in the characters they create, there is a need to normalize behavior that breaks out of the traditional gender binary.
GLAAD points out in a 2019 study that seeing queer representation in media can make people more likely to be accepting of LGBTQ+ people. While the player base that specifically calls for updates that push for inclusivity may be relatively small in the grand scheme of things – though very vocal – it is just as important for non-LGBTQ+ people to help normalize the move away from binary gendering in the language we use.
Though The Sims 4 still has some gendered terms in the game, the team says, "this update isn't the be-all-end-all of representation of nonbinary and other gender diverse fold."