'The Sims 4' Gets With The Times, Removes Gender Boundaries In New Update
The popular game gives players new options in character customization, by removing gender limitations in visual appearance, walk style, physique and tone of voice.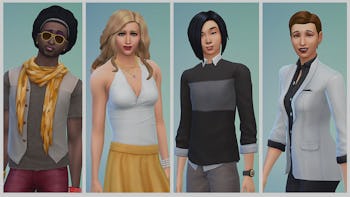 EA / Maxis
The Sims has always been a game that let players express themselves through characters they create. But with a new update to The Sims 4, the tools just got a lot more robust, giving players more options to customize their characters –without boundaries tied to gender.
"The Sims is made by a diverse team for a diverse audience," said Maxis in a post on their update, "and it's really important to us that players are able to be creative and express themselves through our games. We want to make sure players can create characters they can identify with or relate to through powerful tools that give them influence over a Sim's gender, age, ethnicity, body type, and more."
In the past, The Sims offered hair styles and clothing choices, but these were all tethered to gender. Those restrictions have been removed, and now – walk style, tone of voice, and physique will be adaptable under the new update.
The update will give players a bevy of new options and possibilities. Given the importance of having characters we identify with in all types of media, the update to The Sims 4 offers powerful new tools that will likely help players create characters who speak to them in new and meaningful ways.