Starfield Devs Just Dropped a Massive Clue About the Game's Branching Story Paths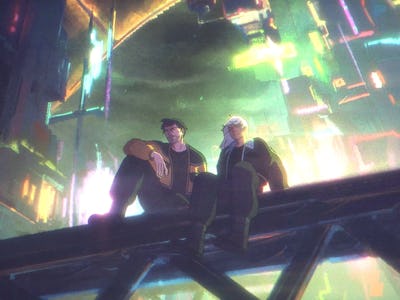 When it comes to sci-fi RPGs, nothing has ever topped the sprawling Mass Effect trilogy. Though despite the gripping story that BioWare's space games tell, when it comes down to it the player only gets to inhabit Commander Shepard — a space cop.
For Starfield, Bethesda's attempt at the spacefaring epic, freedom looks to be the name of the game. A trio of animated shorts highlight this by giving vignettes of the lives players will be able to lead in the world of Starfield — and it looks like the possibilities are endless.
With only a handful of months left until Starfield, it feels like we equally know very little yet so much about the game. Fans have been able to piece together the entire skill tree from the game based on footage available, while an exhaustive compendium on everything that has ever been said or shown about Starfield now totals over 1,000 pages. Yet the details of what story paths players will be able to pursue have been light.
As Starfield follows in the footsteps of The Elder Scrolls and Fallout before it, it is no leap to say that there will be plenty of options though. Bethesda's official YouTube channel uploaded three short animated videos on July 25th, and each one covers a potential path that players will be able to pursue. While no video is longer than three minutes and none of them feature any voiced dialogue, each one is able to establish the unique vibes of Starfield's varied planets and factions.
The first short is called Supra Et Ultra (above and beyond for those who haven't been brushing up on their Latin.) It follows an ordinary man who runs transport as he arrives on New Atlantis, the shining futuristic city that we have seen plenty of from official trailers. New Atlantis is home to the Vanguards, the military branch of the United Colonies (one of the bigger factions in Starfield's Settled Systems.) Inspired to join the cause and get do some space colonizing in the name of the United Colonies our nameless protagonist joins the vanguard and we get a montage of his daring adventures that make him very very wealthy.
The second short, Where Hope is Built, is a bit more altruistic in nature. A young mechanic in a less civilized part of space is repairing an old ship in hopes of seeing the stars and following in her parents' footsteps. In search of a necessary item to repair the ship, she stumbles upon an old man getting harassed and comes to his aid. In thanks, he just so happens to have a working version of the piece he needs and she can go off on her adventure.
The final short, The Hand that Feeds, shows players the seedy city of Neon in which a pair of thieves make their living. One eventful night brings the duo into contact with an official of Ryujin Industries. The duo has opposed views on how to handle the compromised official, and a fight breaks out. The woman in the pair saves the official and can leverage that for a high-up position as some kind of bodyguard or mercenary for the company. Players will be able to follow this faction in the game.
While none of these shorts show any gameplay, they are effective in selling players the fantasy of what they will be able to pursue. Much like the three different openings of Cyberpunk 2077, each short represents a different faction or path through Starfield's vast world that will lead players to encounter their own unique adventures. And this is only three possibilities, which is by no means an exhaustive list of the factions and paths Starfield is planning to offer players.
Starfield comes to Xbox and PC on September 6.