Starfield Dev Hints the RPG's Extensive Side Content Comes With a Catch
Everybody finds their own path to the same end.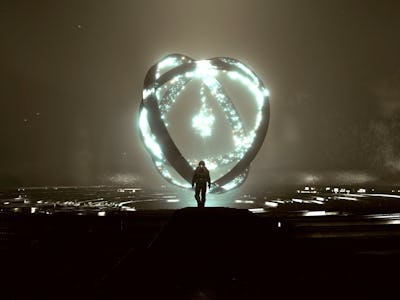 Bethesda
Ahead of Starfield's September 6 debut, Bethesda is slowly revealing more information about the spacefaring RPG. Fans have already poured over every official piece of news about the game, making compendiums and cobbling together entire skill trees, but new bits of information continue to reveal exciting aspects of Starfield.
In a new developer interview on Bethesda's site, a producer for the game dropped hints about the game's extensive side content will offer players untold freedom in Starfield's expansive universe.
The blog in question spotlighted Starfield producer Jamie Mallory. A series of questions help fans get to know Mallory and her journey as a developer at Bethesda. The interview eventually turns to her work on Starfield.
In response to being asked whether her favorite part of Starfield is, Mallory, responded by saying, "I've been diving deep into the quest lines of all the different factions, and I've been pleasantly surprised by the incredible variety in their storylines."
While branching paths are to be expected in a Bethesda RPG, Starfield has already made it clear the game's numerous factions will be a highlight. Recently the studio released a trio of animated features that highlighted just a few of the many paths players will be able to take through Starfield, including being a soldier or a thief. Mallory describes the amount of content in the factions' storylines as "astonishing" and says they are, "like embarking on a grand adventure within an adventure, where every choice you make and every interaction you have shapes the course of the tale."
Mallory describes the faction quests as residing "off the beaten path" and that players who pursue the "main golden path storyline" may miss some of the game's most interesting content. That suggests that while Factions in Starfield may have expansive storylines of their own that give the player interesting ways to interact with characters and locations in the game, they are not necessarily critical to the game's end.
The suggestion that there is a "golden path" could mean that Starfield's ending may not be tailored to larger player choices, rather players will have a unique adventure on their way to the same ending.
Another tidbit Mallory revealed during the interview is the inclusion of Mission boards in Starfield. "The Mission Board also kept us all on our toes, ensuring players had exciting challenges to tackle while exploring the cosmos," Mallory says. There was been some worry that Starfield's massive map might be conceptually impressive, but empty due to the scale. A Mission Board acts as a solution to that problem.
Starfield's Mission Board will likely act as a quest hub for interesting activities players can explore, similar to the Notice Board in The Witcher 3. Hopefully, it takes a page out of Final Fantasy XII's book and includes some kind of Hunt adjacent activity that challenges the player's skills in unique ways.
Both of these features assure that players will have no shortage of mischief to get up to in Starfield's vast space system, though what the golden path storyline holds in store for players is a tantalizing mystery we probably won't fully get answers to until Starfield is finally in the hands of players.
Starfield comes to Xbox and PC September 6.