Redfall's Disastrous Launch Sets an Impossibly High Bar for Starfield
Xbox gamers can't keep waiting for a hit.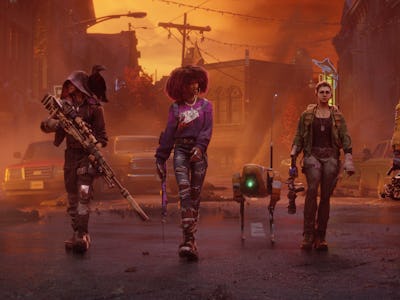 Bethesda Softworks
Xbox owns so many amazing game studios. But the company hasn't released a first-party AAA hit since the launch of Series X|S. While Game Pass is still the best deal in gaming, the company's offerings have failed to meet the expectations of gamers across the globe. Redfall, from Bethesda Softworks and Dishonored developer Arkane, was poised to end the drought. But the vampire shooter's underwhelming launch has made the problem more obvious than ever. Looking ahead to the rest of 2023, the pressure falls squarely on the shoulders of Starfield.
2021's Halo Infinite was the last major AAA exclusive on Xbox. However, the title's promising launch made way for a disappointing live-service title. Redfall was positioned as a cooperative shooter from a renowned developer that would be exclusive to Xbox and available day one on Game Pass. Sadly, reviews have revealed Redfall to be besieged on all sides by technical difficulties and uninspired design.
Exclusives are biggest draw to any gaming platform. This is why franchises like Halo and Uncharted have become so important. Microsoft's continued acquisitions of other companies with desirable properties to bring to Xbox and Game Pass are the biggest selling points for the Xbox ecosystem. But we're past due for a major payoff for all those acquisitions.
As the next title from the team behind Fallout and Elder Scrolls, anticipation for Starfield is already sky high. In addition to the usual hype, Xbox fans have an added interest and excitement because they have been starving for the big-budget titles they expect from Xbox.
2022 saw no high-profile Xbox exclusives released for the platform, which led some to argue that Game Pass burnout was beginning. At that same time, Xbox was using the benefits of Game Pass to invest in supporting indie developers as well as giving first-party studios the chance to make weirder passion projects. This led to titles like 2022's delightful medieval murder mystery Pentiment and 2023's surprise overnight hit Hi-Fi Rush. For some developers, this approach has been freeing.
"What we were trying to do is go back in time to when projects were a little bit smaller, where we were able to execute on a very specific vision, instead of being these sort of mega games that need to have everyone enjoy them," Hi-Fi Rush creative director John Johanas told Inverse, "There's something to be said about seasoned developers being able to have a budget behind a passion project. It feels like a niche that people are looking for."
Still, many gamers do still want those "mega games." Starfield is being marketed as the mega game, with over one thousand explorable planets and different ways to play. With just a few months to go until Starfield's release, we still know alarmingly little about the game.
When Starfield releases on September 6, it will be almost two years since Halo Infinite, hopefully delivering the blockbuster Xbox devotees have been clamoring for. It's an astronomically high bar to reach, and it didn't have to be this way.