Red Dead Redemption Remake Leak Hints Release Date Is Sooner Than Expected
From reveal to launch in a matter of months.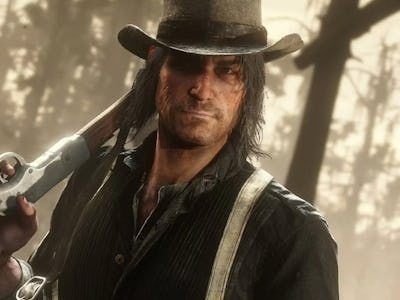 Rockstar Games
It seems increasingly likely that Rockstar Games is working on a remake or remaster for Red Dead Redemption, a game that originally launched in 2010. Recently, a new content rating for Red Dead Redemption appeared on a Korean rating website, indicating the game may be coming back in some way. Now, a Twitter user claims to have specific details in reference to the remake's release date — and if true, we could very well be playing an enhanced version of Red Dead Redemption this year.
Twitter user Budzcario seemingly claims that a Red Dead Redemption "remaster" will launch for PS5, Xbox Series X|S, and PC on November 17, 2023. Budzcario says that Rockstar will reveal the game in August 2023, ahead of its release this fall. The tweet isn't explicitly clear at first, but further replies contextually suggest that this fall release date is in reference to Red Dead Redemption.
If true, this would give Rockstar around two to three months to promote the remaster, which would certainly be refreshing since many games are often revealed years in advance. But let's examine that potential release date a bit further.
November 17 falls on a Thursday, which is odd since most games launch on Tuesdays or Fridays. But Grand Theft Auto: The Trilogy - The Definitive Edition's November 11, 2021 launch also fell on a Thursday, so there is precedent. That trilogy was officially confirmed in October 2021, only a month ahead of its release. So a tight turnaround between reveal and launch isn't unheard of for Rockstar.
Interestingly enough, the Twitter user refers to this project as a "remaster," as opposed to a "remake." It's unclear exactly what sorts of new features the game will include, but a remaster implies that it will not be rebuilt from the ground up. For instance, 2023's Resident Evil 4 is a remake, while the aforementioned GTA Trilogy is more of a remaster.
Former IGN editor Colin Moriarty has also said he's heard a Red Dead Redemption remaster will be announced soon (via GamingRoute).
"I can say I have seen confirmation that this is real," Moriarty said on an episode of the Sacred Symbols podcast. "Maybe even imminently with an announcement in August."
Red Dead Redemption is one of the most beloved games in Rockstar's catalog, but sadly, it's difficult to get your hands on today. It was only ever released on PS3 and Xbox 360, making a remaster more necessary. At this point, we'll have to wait and see. But it sure would be nice to have something to hold us over until the release of GTA 6.