Persona 5 Tactica Release Date, Trailer, Platforms, and Gameplay for the Revolutionary Spin-Off
Featuring turn-based tactical gameplay with that oh-so-sweet Persona style.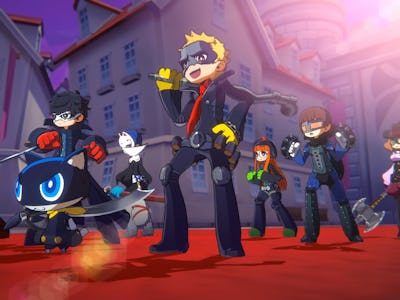 Atlus
It's an incredible time to be a Persona fan. From the release of Persona 5 to the ports of Persona 4 Golden and Persona 3 Portable to modern platforms, there's never been a greater time to jump into the series. And now, Atlus is making it even more appealing with its new project, Persona 5 Tactica. This is a turn-based tactical RPG that will borrow from the themes introduced in Persona 5 but with a new twist. Here, we'll highlight everything you'll need to know about Persona 5 Tactica.
Persona 5 Tactica Release Date
Persona 5 Tactica is gearing up to launch worldwide on November 17, 2023. This was confirmed during its reveal as part of the Xbox Games Showcase.
Persona 5 Tactica Trailer
Microsoft and Atlus revealed Persona 5 Tactica during the 2023 Xbox Games Showcase. The reveal trailer wasn't very long, but it did offer a look at its gameplay, art style, and characters — including Joker, Morgana, Ryuji, Ann, Futaba, and many others.
Persona 5 Tactica Story
The Phantom Thieves have a new threat on their hands and this time around, the group has ended up in a strange, European medieval town in the midst of danger. After being saved by "Elle the Revolutionary," the Phantom Thieves must return the favor by assisting her in the revolution ahead.
A description of the game from Atlus is as follows:
After a strange incident, the Phantom Thieves wander into a bizarre realm where its citizens are living under tyrannical oppression. Surrounded by a military group named Legionnaires, they find themselves in grave danger until a mysterious revolutionary named Erina rescues them and offers an enticing deal in exchange for their help. What truth lies behind Erina and the deal she offers to the Phantom Thieves?
Persona 5 Tactica Platforms
Although Persona 5 Tactica was revealed during an Xbox Showcase, the game will launch across all platforms, including PS4, PS5, Nintendo Switch, PC, and of course, Xbox One and Xbox Series X|S.
Persona 5 Tactica Game Pass Status
Microsoft's partnership with Atlus has strengthened in recent years, so much so, that many of the Persona games are available on the Game Pass subscription service. The same can be said about Persona 5 Tactica, which will be available as a Game Pass title on day one, November 17.
Persona 5 Tactica Gameplay
As its name suggests, Persona 5 Tactica is a turn-based tactical RPG that will borrow elements from games such as Fire Emblem. It will include a grid format, wherein you must move your units across tiles to defeat enemies scattered around the arena.
It will still utilize many systems and features from Persona 5, such as 3-person parties, various skills, and even the All-Out Attack ability (in which all characters team up to dish out a powerful flurry of strikes). Atlus still has plenty more to show, but thus far, a Persona-themed tactics game seems like a match made in heaven.
Persona 5 Tactica launches for all platforms this fall.