Everything we know about the R-rated Mortal Kombat reboot on HBO Max
Get over here! And learn all about what may be the most violent Hollywood movie of 2021.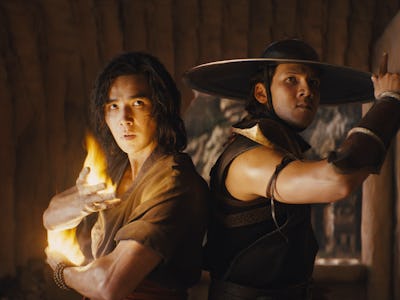 Warner Bros. Pictures
Finish him! A new live-action film adaptation of the iconic Mortal Kombat video games is koming soon to the big (and small) screen.
That's right. The games where you ripped out your best friend's spine back in the day is getting a reboot. And it's koming kourtesy of producer James Wan, the architect of movies like The Conjuring and the 2018 DC superhero movie Aquaman.
Here's everything we know so far about Mortal Kombat, including its plot, HBO Max release date, and trailers. Bookmark this page and come back every so often as we'll update when we know more. For now: Fight!
What were your favorite games and gaming moments of 2020? Take our poll!
When will Mortal Kombat be released on HBO Max?
Mortal Kombat will be released simultaneously in theaters and HBO Max on April 16, 2021.
Like other movies from Warner Bros. in 2021, Mortal Kombat will be released both in theaters and on the HBO Max streaming platform. In December 2020, the studio announced its slate of 2021 movies will be released on HBO Max in observance of the ongoing Covid-19 pandemic.
Other 2021 movies from the studio include Dune, Godzilla vs. Kong, In the Heights, Space Jam: A New Legacy, The Suicide Squad, The Many Saints of Newark, Reminiscence, Judas and the Black Messiah, The Conjuring: The Devil Made Me Do It, and more.
Prior to the pandemic, Mortal Kombat was slated to open over MLK weekend on January 15, 2021.
Where can I watch the trailer for Mortal Kombat?
Although production on Mortal Kombat wrapped over Christmas 2019, there is no trailer for the film. However, a brief flash from the movie was included in an HBO Max promo advertising its "Same Day Premieres." You can watch the promo trailer here.
Who is starring in Mortal Kombat?
Mortal Kombat will feature a large, diverse ensemble, many familiar faces. The movie's confirmed cast is below:
Ludi Lin (Power Rangers) as Liu Kang, a Shaolin monk from Earth who is invited to the mysterious Mortal Kombat tournament.
Mechad Brooks (Supergirl) as Jax, an American Special Forces soldier with augmented, cybernetic arms.
Jessica McNamee (The Meg) as Sonya Blade, a tough-as-nails soldier who leads the Outer World Investigation Agency, an Earth-based unit that deals with extra-worldly threats. She harbors a grudge against Kano, leader of the mercenary clan the Black Dragon, who killed her former partner.
Josh Lawson (House of Lies) as Kano, leader of the Black Dragons who wears a metal plate to hide facial injuries sustained from Jax.
Tadanobu Asano (Thor) as Raiden, an immortal thunder god who helps Earth win Mortal Kombat.
Hiroyuki Sanada (Westworld) as Scorpion, an undead ninja who seeks vengeance for his family against his rival, Sub-Zero. Best remembered for his fiery spear that pulls his targets close to afford him a killing shot.
Joe Taslim (The Raid) as Sub-Zero, a ninja from the Lin Kuei clan who possesses the powers of ice.
Chin Han (The Dark Knight) as Shang Tsung, a sinister Shaolin monk and shape-shifter who can absorb the souls of the living.
Sisi Stringer as Mileena, a half-human, half-Tarkatan assassin.
Max Huang as Kung Lao, a Shaolin monk and best friend of Liu Kang who is remembered by fans for his unique weapon: His razor-sharp, circular hat.
Lewis Tan (Into the Badlands) as Cole Young, a new character invented for the movie. In a spread by Entertainment Weekly, it was revealed Cole Young is a washed-up MMA fighter with a strange birthmark on his chest — the mark of Mortal Kombat.
Mortal Kombat will be directed by Simon McQuoid, a commercial filmmaker who has directed commercials for PlayStation, HP, H&R Block, Nissan, Duracell/Star Wars, the Call of Duty and Halo video games, and Netflix. Mortal Kombat will be his feature film debut.
Wait, what is Mortal Kombat?
Mortal Kombat is a popular (and violent) video game franchise that debuted in arcades in 1992. Its premise centers on an ancient martial arts tournament where the best warriors from throughout the multiverse compete to prevent invasion. A trio from Earth, under the stewardship of thunder monk named Raiden, team up to protect Earth.
The first game, developed by Midway Games in Chicago (and originally intended to be a project starring Jean-Claude Van Damme), was a hit that generated controversy for its lifelike depictions of gore and violence. With its iconic "Fatality" finishing moves, players could mutilate opponents, but usually to comic effect.
Because of the controversy it generated, Mortal Kombat prompted then U.S. Senators Joe Lieberman and Herb Kohl to argue for censorship in video games. This resulted in the formation of the Entertainment Software Rating Board, or ESRB, a censorship board (similar to the MPAA) that rates the content of video games.
Despite, or maybe because of these controversies, Mortal Kombat became one of the most popular media franchises in the '90s. The game spawned multiple sequels, comic books, action figures, merchandise, and an animated series. Two live-action theatrical films, 1995's Mortal Kombat and 1997's Mortal Kombat: Annihilation, were released.
Games in the main series were released until Mortal Kombat: Armageddon in 2006, a symbolic end to the series. After a brief hiatus and the closure of Midway Games, the series returned in a successful 2011 reboot, Mortal Kombat (commonly referred to as Mortal Kombat 9) from the newly-formed NetherRealm Studios. A sequel, Mortal Kombat X, was released in 2015. Mortal Kombat 11 was released in 2019 to wide acclaim.
What is the plot of Mortal Kombat (2021)?
The new movie is a reboot of the original games, with focus on a new character, Cole Young. The official plot synopsis from Warner Bros. is below:
"MMA fighter Cole Young, accustomed to taking a beating for money, is unaware of his heritage—or why Outworld sorcerer Shang Tsung has sent his best warrior, Sub-Zero, an otherworldly Cryomancer, to hunt Cole down. Fearing for his family's safety, Cole goes in search of Sonya Blade at the direction of Jax, a Special Forces Major who bears the same strange dragon marking Cole was born with. Soon, he finds himself at the temple of Lord Raiden, the protector of Earthrealm, who grants sanctuary to those who bear the mark. Here, Cole trains with experienced warriors Liu Kang, Kung Lao and rogue mercenary Kano, as he prepares to stand with Earth's greatest champions against the enemies of Outworld in a high stakes battle for the universe. But will Cole be pushed hard enough to unlock his arcana—the immense power from within his soul—in time to save not only his family, but to stop Outworld once and for all?"
In an October 2020 interview with Inverse, Joe Taslim told us that the movie will please fans, saying:
"It's a really strong script ... When you think about Mortal Kombat, you think it's just good guys fighting bad guys in a tournament. But this movie is more than that. More story. More layers. For fans who love Liu Kang, who love Scorpion, who love Sub-Zero, they're gonna get justice. For the fans, I have high hopes they would like it."
Wasn't there supposed to be a third movie?
After Mortal Kombat: Annihilation, a third movie was planned as original franchise lead Robin Shou, who played Liu Kang, had signed a three-picture deal.
But the movie, titled Mortal Kombat: Devastation, was canceled after Annihilation failed to be a success. In 2010, a fan film titled Mortal Kombat: Rebirth was directed by Kevin Tancharoen. The short went viral online and reignited interest in a new movie. A movie never materialized, but it did lead to a two-season web series, Mortal Kombat: Legacy.
In 2015, James Wan signed on to produce Mortal Kombat. After many years of starts and stops, production wrapped in Australia in early 2020 and will open in theaters in 2021.
Will the movie be as violent as the games?
Several of the film's producers have teased on social media that the film will borrow some of the games' most brutal elements. Producer and screenwriter Greg Russo tweeted the movie "WILL be R-Rated" and that, "for the first time ever," the game's fatalities will be shown on the big screen.
Mortal Kombat will open in theaters and HBO Max in 2021.
This article was originally published on