The Man Who Was Almost Iron Fist Trained with Wonder Woman
Lewis Tan reveals his training to become the new villain on AMC's 'Into the Badlands.'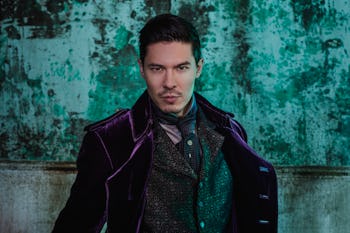 AMC
Lewis Tan, the half-British, half-Chinese, all-abs actor and martial artist, is grateful for the viral fame he stumbled upon last year from his minor role in the Marvel/Netflix series Iron Fist. While lead role ultimately went to Loras Tyrell (Finn Jones), Tan was hard to ignore as he chewed up eight minutes of screen time as a drunk kung fu master. His new fans wanted 13 hours more. Now, a year later, they'll have more time, as Tan enters the newest season of AMC's kung fu fantasy Into the Badlands as Gaius Chau, as well as the summer blockbuster Deadpool 2, playing the mutant Shatterstar.
On April 22, AMC will premiere the third season of Into the Badlands. But two weeks before shooting wrapped in "cold, muddy" Ireland, Tan tells Inverse via Skype that his biggest projects were already underway prior to Iron Fist. And, he trained with Gal Gadot's stunt double on Wonder Woman, Caitlin Dechelle, to sharpen his skills with the Japanese katana.
"Timing is very important when it comes to life," says Tan. "There was a lot of stuff in talks before Iron Fist. I turned down shows and I turned down films. It just so happened when Iron Fist happened, things started to snowball."
Prior to Iron Fist, Tan's IMDB wasn't as dense as some of the internet's other, higher-profile boyfriends, like Oscar Isaac or Michael B. Jordan. A CSI here, an NCIS there. His biggest film credit was stunt work for 2007's Pirates of the Caribbean: At World's End, which he worked on with his father, a veteran stunt coordinator. After that, it was 2013's Olympus Has Fallen, as "Korean Commando." By the time Iron Fist came, Tan had already been working for years but little to show for it.
"It was at that point in my career where I'd been in this game eight, nine years, focusing, working hard, head down," he says. It was in this time that Tan refined his disciplines, including kickboxing, Muay Thai, jujitsu, kung fu, and more. It was time well spent that's now paying off.
For Into the Badlands, Tan picked up the katana to play Gaius Chau, a prisoner released by his feudal lord sister, Baron Chau. "He was put in jail for releasing Cogs," Tan explains. ("Cogs" are foot-soldiers enslaved by duty.) "He has a heart for seeing people be free, and he's looking at the future of the Badlands being a place of freedom than tyranny. That's why he's in jail in the first place."
Tan also reveals a soft side to Gaius. "Gaius is a hopeless romantic," he teases. "Let me just leave it at that."
For Badlands, Tan trained with Dechelle, a champion martial artist with 90 NASKA World Titles, to become Gaius. "I have a familiarity with the sword, but Gaius has a very aggressive fighting style that is different [than my own]," he explains. "Because of my body and my size, I move differently. I always try to add, like I did in Iron Fist, my own element with the martial arts. Action is a character to me. It's just as important as the emotional aspect."
Set in the distant future after a devastating war, Into the Badlands is a post-apocalyptic steampunk martial arts fantasy in which the last vestiges of mankind are ruled by feudal lords, called "Barons." The people who fight on behalf of them, "Clippers," live and die by the sword (or whatever sharp edges are within reach). It's like samurai Game of Thrones, but with flashier style. Since its premiere in 2015, critics have hailed Into the Badlands for having the most impressive action choreography on TV.
Tan says the master choreographers — Huan-Chiu Ku, also know as "Master Didi," who trained under the legendary Yuen-woo Ping of The Matrix and Kill Bill, and Andy Cheng — don't hold rehearsals for the very intricate fight scenes. He and the other actors sometimes learn their moves just minutes before shooting.
"I was shocked too," Tan says. "They walk around the room and design the action, their guys go off on their corner, and I'll just be watching. By the time they present it to me, I have ten to fifteen minutes to learn it."
But Cheng and Master DiDi are "masters" in shooting and cutting fight scenes. "They shoot in pieces. Ten, twenty moves, sometimes shorter. But they have it down to a science. When you see the final product, it's incredible how they do with very little rehearsal. These guys live, breathe, eat, sleep this stuff. I look up to those guys. I wanted to do my very best."
Badlands is such a well-oiled machine that an outsider like Tan didn't struggle to fit in. "I've been around this game for awhile. The way they teach choreography, I've never had this before. They have it down to an art," he says. "When we're not filming, we're training. We train to stay fluid and learn rhythm." He recalls what "locker room leader," series star Daniel Wu, said about the show's fight philosophy. "It's like jazz. It feels improvised and fluid, but there's a rhythm and it all comes together."
As for Deadpool 2, Tan wasn't at liberty to reveal much about Shatterstar, "or else the Marvel snipers will get me." But he did admit that Shatterstar could wreck his Badlands character. "Theres no doubt. Shatterstar would use shockwaves and that would be a wrap," Tan laughs. "Gaius doesn't have any superpowers. But he's got a lot of heart."
Into the Badlands Season 3 premieres April 22 on AMC.