The Only Good Part of 'Iron Fist' Just Joined 'Deadpool 2'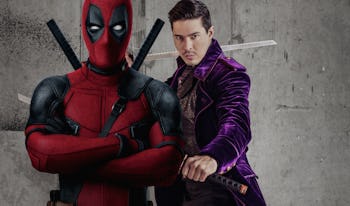 AMC, 20th Century Fox
The Marvel Cinematic Universe is loaded with phenomenal talent, but it didn't take advantage of Lewis Tan when it had the chance in Iron Fist. Luckily, the MCU's loss is Deadpool's gain, as the actor who fans wished played Danny Rand will be Shatterstar in Deadpool 2.
On March 23, actor Lewis Tan posted on social media a screen grab of the X-Force from the Deadpool 2 trailers, with the caption, "Squad just got interesting. Recognize anyone? You guessed it."
While Tan doesn't explicitly confirm which X-Force character he's playing, based on simple deduction, it is very clear that Tan will be Shatterstar. The other characters in the image all have confirmed actors, including Terry Crews, Zazie Beetz, Bill Skarsgård, and of course, Ryan Reynolds. This leaves Shatterstar, standing behind Crews, to be Lewis Tan.
In the comics, Shatterstar — who was also introduced by Deadpool creators Fabian Nicieza and Rob Liefeld — is a mutant capable of teleportation by generating vibrational waves and channeling them with his swords. He's also an expert martial artist, which makes Tan perfectly suited to the role.
Around the release of Marvel's Iron Fist on Netflix last year, Tan revealed he had auditioned for the lead role of Danny Rand, an American boy who is stranded in K'un-Lun and spends his teen years learning kung fu from Shaolin monks to become the Iron Fist. The role went to Game of Thrones alum Finn Jones, while Tan played Zhou Cheng, a drunk guardsman who appears in Episode 8. Critics noted that Tan's appearance was an all too brief highlight of the series, which has an 18% on Rotten Tomatoes.
Because of the martial arts background of Iron Fist, fans were divided whether or not Danny Rand should be played by an Asian actor. Tan, who is half-Chinese, seemed like the perfect middle ground, with the added bonus being that he is also a skilled martial artist. (Jones lacked experience prior to shooting Iron Fist.)
In the aftermath of Iron Fist, Tan's career surfaced out of obscurity, after a string of one-off roles in TV shows like NCIS, CSI, and Hawaii Five-O. This April, Tan will appear as a series regular in Season 3 of AMC's Into the Badlands.
Deadpool 2 will be released on May 18.