'Deadpool 2' Trailer: Who Are All the New Characters in the X-Force?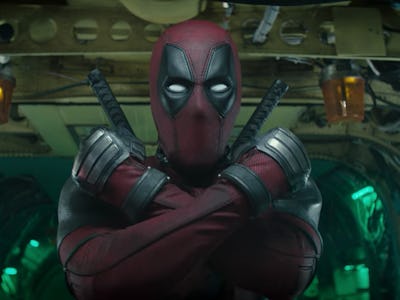 YouTube.com/20th Century Fox
When the Merc with a Mouth returns to theaters in May, he's not going to be alone. He's forming the X-Force, who debut in the newest trailer for Deadpool 2. In addition to meeting the X-Force, fans learn what Cable's mission is, and it's so morally abhorrent that Deadpool of all people is trying to stop him.
On Thursday, 20th Century Fox released the second trailer for Deadpool 2 online. In it, Ryan Reynolds returns as Wade Wilson (aka "Deadpool") to fight Cable (Josh Brolin), a cyborg mutant who looks like a Rob Liefeld drawing come to life. In the trailer, Cable is looking to hunt down a mutant kid (Julian Dennison) for reasons still unknown. To stop him, Deadpool forms a team of mutants dubbed "X-Force." Created by Fabian Nicieza and Rob Liefeld in 1991, the X-Force is a "black ops" mutant team who carry out missions too dangerous and too dirty for the squeaky X-Men.
You might also like: "'Deadpool 2' Trailer Finally Reveals Cable's Mission and the X-Force's Role"
In addition to heroes we already know, like Colossus, Negasonic, and Domino (Zazie Beetz), the new trailer reveals even more new mutants without naming them. Based on the footage, we can deduce that Shioli Kutsuna is playing Surge, a mutant capable of manipulating electricity. We also know Shatterstar is in the movie, but we don't yet know who's playing him. And the jury's still out on Terry Crews, though we're still guessing he's Hammer.
Back in February, when the first trailer was released, actor Stefan Kapičić ("Colossus") confirmed to Inverse that Shatterstar and Terry Crews are in the movie. "That's not CGI of Terry Crews, that is Terry Crews," Kapičić said. "You can see behind him, Shatterstar, a really cool thing for people to geek out."
While the Disney/Fox merger won't guarantee an Avengers crossover anytime soon, Marvel fans can still look forward to a standalone X-Force movie, which is getting all the important setup through Deadpool.
Meanwhile, all the old favorites are also coming back in Deadpool 2. Vanessa, Dopinder, and Blind Al (played by Leslie Uggams) all return. If the X-Force doesn't work out, at least Wade will have his friends.
Deadpool 2 will be released in theaters on May 18.