Honkai: Star Rail Version 1.5 Release Date, Huohuo and Argenti Banners, and Events
A spooky adventure awaits the Trailblazer.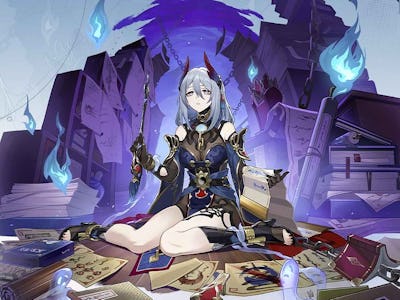 HoYoverse
Honkai: Star Rail's main story has been chugging along like the Astral Express since the game launched in April, with each major update adding more content to enjoy. The latest patch, version 1.5, titled "The Crepuzcule Zone," is just around the corner. Like past updates, it will bring new characters, quests, and limited-time events. Here's everything we know about Honkai: Star Rail version 1.5.
What Is the Release Date For Honkai: Star Rail 1.5?
Honkai: Star Rail version 1.5 is set to release on Wednesday, November 15. This follows the pattern of Genshin Impact and previous Honkai: Star Rail updates, launching roughly every six weeks.
Maintenance for Star Rail typically begins at 6 a.m. Chinese Standard Time (UTC +8), which means the 1.5 update should go live on Tuesday, November 14 at 10 p.m. ET in the United States, due to the timezone difference.
Honkai: Star Rail 1.5 Character Banners
Star Rail's 1.5 banners will focus on Huohuo and Argenti, with two phases centering on each. A third new playable character, Hanya, will also debut with Argenti's banner.
Huohuo's Phase 1 banner should run from November 15 to December 6 and will introduce the named character alongside three boosted 4-Star characters. Here are all four characters:
Huohuo (5-Star, Wind, The Abundance)
Dan Heng (4-Star, Wind, The Hunt)
Arlan (4-Star, Lightning, The Destruction)
Serval (4-Star, Lightning, The Erudition)
Argenti's banner will run directly after Huohuo's from December 6 to whenever version 1.5 ends (approximately December 26), and again includes Argenti himself, Hanya, and two other characters.
Argenti (5-Star, Physical, The Erudition)
Hanya (4-Star, Physical, The Harmony)
Lynx (4-Star, Quantum, The Abundance)
Asta (4-Star, Fire, The Harmony)
In addition, Silver Wolf's character banner will return for the first time since version 1.1. The banner will run during Phase 2 of version 1.5, from December 6 to December 26.
All three 5-Star characters available during version 1.5 will also have Light Cone banners that players can use warps on that will run during the same phase as the corresponding character banner.
What Quests Are Coming In Honkai: Star Rail 1.5?
The Honkai: Star Rail Version 1.5 Special Program, which you can watch above, revealed quite a bit about the new content players will be able to jump into.
Firstly, there is a Trailblaze Continuance Mission, "A Foxian Tale of the Haunted Mission." This will double as an event that takes place across five chapters and will see the player manage a social media app, trying to solve a number of spooky mysteries aboard the Xianzhou Luofo. The event will introduce the new area, Fyxestroll Garden, to the game as well.
Additionally, Argenti will get a companion mission to celebrate the new character's introduction. Titled "Night of Universal Hallucinations," the quest will see Argenti arrive on the Astral Express to challenge the Trailblazer to a duel.
What Events and Updates Will Come in Honkai: Star Rail 1.5?
Version 1.5 will introduce quite a few events, on top of a returning one. The first is "Gift of Odyssey," which will give players 10 Special Star Rail Passes for logging in seven days during version 1.5 (they don't have to be consecutive days!).
The Simulated Universe will expand to World 8, which will bring with it new awards, such as Planar Ornaments, to collect on completion.
In addition to "A Foxian Tale of the Haunted Mission," version 1.5 will have two other events. "Boulder Town Martial Exhibition" is a combat event that puts the player through waves of enemies and gives rewards for completion. "Stellar Shadow Seeker" is a photography event that asks you to take pictures in-game to help restore March 7's photo album.
Honkai: Star Rail will get a collection of general updates, too. A new guest book feature will let you see which characters have visited the Astral Express and the little messages they've left for you to read. The Forgotten Hall will get a restart function you can use to start over and try again without losing any consumed technique points. Finally, a new quick consumable function will let players keep DMG or DEF boosting items in effect continuously by having items automatically trigger when entering battle.
Honkai: Star Rail is currently available on PlayStation 5, PC, iOS, and Android.