Honkai: Star Rail Release Time, Pre-Load Details, File Size, and Platforms
With more than 10 million pre-registered users, excitement is through the roof.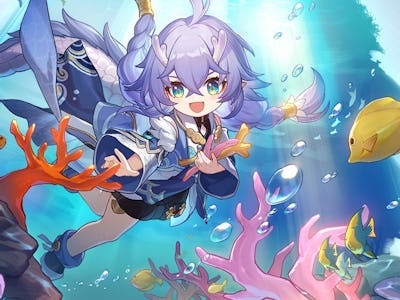 HoYoverse
HoYoverse's upcoming sci-fi adventure Honkai: Star Rail is nearly here, and players are gearing up for its launch across PC and mobile. Honkai: Star Rail is a free-to-play, turn-based RPG from the studio behind Genshin Impact. It boasts a similarly eye-catching art style and plenty of characters to collect, as well as swappable parties of four.
Here's what you need to know about jumping into Honkai: Star Rail as soon as possible.
Honkai: Star Rail Release Times
Honkai: Star Rail will launch on Wednesday, April 26, 2023. However, since the game has a global simultaneous release, players in North America will gain access to it the day prior, on April 25 at 10 p.m. Eastern. Below are the launch times for Honkai: Star Rail's global release:
April 25 at 7 p.m. Pacific
April 25 at 10 p.m. Eastern
April 26 at 3 a.m. British Summer
April 26 at 4 a.m. Central European Summer
April 26 at 7:30 a.m. India Standard
April 26 at 11 a.m. Japan Standard
April 26 at 3 p.m. New Zealand Standard
Is Honkai: Star Rail on PlayStation?
Honkai: Star Rail will launch for PC and mobile via iOS and Android. It's currently in development for PS4 and PS5, but developer HoYoverse hasn't revealed its release date.
Earlier in March 2023, Honkai: Star Rail's lead programmer Yang Yu said the PS4 and PS5 versions will launch "in the near future," but did not specify an exact release date. For now, players will have to try the game on PC or mobile.
What Is the Honkai: Star Rail File Size?
On PC, Honkai: Star Rail will initially clock in at around 10.12GB, while the mobile version will take up around 7GB of storage space.
Is There a Honkai: Star Rail Launch Bonus?
Players who complete pre-registration prior to the game's launch on April 26 are granted bonuses, and it looks like over 10 million users have taken advantage of the rewards thus far.
Pre-registering for Honkai: Star Rail gives players access to 20 Star Rail Passes, which is one of the game's main forms of currency, along with the 4-star character Serval. This character will focus on the Lightning Element and is a member of the Landau family.
Likewise, HoYoverse is offering an additional signup giveaway on Twitter, wherein players have a chance of winning a $100 gift card.
Honkai: Star Rail launches on April 26, 2023.