Could Honkai: Star Rail Come to PS4 and Xbox? What the PS5 Release Means for the Game's Future
The Astral Express isn't making any more stops.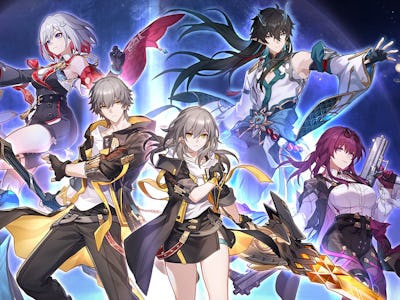 HoYoverse
Honkai: Star Rail, the latest game from Genshin Impact developer HoYoverse, launched on PC and mobile devices in 2023 to massive success. Within the first three months after release, the free-to-play Honkai: Star Rail earned $500 million through microtransactions, making it one of the year's best-performing mobile titles.
In October, HoYoverse also brought HonkaiL Star Rail to PlayStation 5 consoles, opening the RPG up to a whole new audience. For players who've already been exploring Honkai: Star Rail on PC or mobile, there's even cross-progression available so you can pick up your adventure on PS5.
Given the successful PS5 launch, fans are wondering if HoYoverse will bring Honkai: Star Rail to more platforms in the future. Here's everything we know about Honkai: Star Rail on Xbox and PS4 so far.
Has HoYoverse Announced Honkai: Star Rail on PS4 or Xbox?
So far, there's been no official word from HoYoverse about Honkai: Star Rail coming to any more platforms. For now, we can only speculate on the possibility, but chances don't look good for anyone to join in on other consoles.
Could Honkai: Star Rail come to PS4 or Xbox in the future?
Since HoYoverse's Genshin Impact is already available on PS4, it may seem more likely that Honkai: Star Rail could join it there rather than come to Xbox. However, the chances look slim. While Genshin Impact does run on PS4, its performance is significantly worse on the older console than it is on PS5. If HoYoverse had any plans to bring Honkai: Star Rail to PS4, it likely would have happened at the same time as its PS5 release. The effort involved in getting Honkai: Star Rail running adequately on PS4 may not be worth the potential new players. Since its mobile and PC versions are free and accessible already, there's little to gain from bringing the game to PS4.
For Xbox, prospects look even worse, although it could present an interesting opportunity. It's easy to imagine Honkai: Star Rail coming to Game Pass, where it would reach a large new audience. However, Genshin Impact isn't available on Xbox consoles either, so HoYoverse doesn't have an existing relationship with Microsoft to lean on.
In September, the FTC trial regarding the Xbox maker's Activision Blizzard purchase revealed a trove of Microsoft documents that the company uploaded to a publicly accessible court website. There was no word there about Microsoft courting HoYoverse, which could mean that neither Honkai: Star Rail nor Genshin Impact is on its wishlist.
According to Reuters, Microsoft has instead been looking for a game to acquire from other Chinese developers. Rather than jump on the HoYoverse bandwagon along with Sony, the company is reportedly looking to sign the next big game out of China before it catches on in the U.S., when the publisher stands to make a lot more money. The same report says that Microsoft actually spoke to HoYoverse to make a deal on Genshin Impact well before its release, but talks ultimately fell through.
Taken together, there's almost no chance that Honkai: Star Rail will appear on PS4 or Xbox consoles in the future. What's far more likely is that HoYoverse will continue to work with Sony for releases on PS5 and future consoles, and Microsoft will continue searching for another Chinese developer to court.
Honkai: Star Rail is available now for PC, PlayStation 5, and mobile devices.