Genshin Impact Yaoyao build transforms her into a support powerhouse
Say hi to the Adepti Dendro daughter.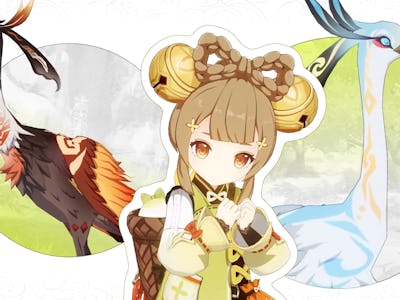 HoYoverse
Want to play with Yaoyao? The Adepti disciple, who leaked as a playable character two years ago, finally debuts in the annual Lantern Rite festival featured in Genshin Impact 3.4. She's also one of the few Dendro characters to release since the element arrived with Sumeru in Genshin Impact 3.0.
Numerous players are likely to have Yaoyao, considering she's one of the 4-stars featured in the latest banners. Those who decide to build her will need to know how to optimize her for Dendro teams that need support.
Here's how to build Yaoyao into your ideal Dendro healer.
Yaoyao applies Dendro and heals teammates, which makes her a great fit for Dendro reaction teams in need of a versatile damage-boosting character. Some players like a dedicated shield or healer on their team, so that they don't have to try as hard to avoid damage. Others prefer a playstyle where the last slot could be a character that buffs their damage, like Sucrose or Kazuha. In both cases, Yaoyao could work as a Dendro and healing character in one.
Yaoyao heals teammates using Yuegui, her rabbit-like companion that works similarly to Xiangling's Guoba. Yuegui intermittently spits Dendro DMG at enemies or heals teammates depending on the nearby character's current HP. Sometimes, his attacks can even do both if the enemy and teammate are near enough each other.
Best weapons for Yaoyao
5-star weapons
Yaoyao works best as a Dendro applicator or healer. That means handing her one of the 5-star polearms might be unnecessary. But if you have awesome weaponry to spare, the best one would be Staff of Homa, because it has an HP buff that increases her healing capabilities. (If another polearm damage-dealer is in your party, it'd be better to hand it to them, though.)
Staff of Homa (Crit DMG) - HP increased by 20 percent. Additionally, provides an ATK Bonus based on 0.8 percent of the wielder's Max HP. When the wielder's HP is less than 50 percent, this ATK bonus is increased by an additional 1 percent of Max HP.
4-star weapons
Many of the 4-star polearms are serviceable, but the most optimal one will depend on your intentions. Favonius Lance is great because Yaoyaos needs Energy Recharge.
On the other hand, Elemental Mastery polearms can work well on reaction-based teams. Kitain Cross Spear and Moonpiercer are two craftable Elemental Mastery polearms with useful abilities. If you're using her for a Bloom team, Dragon's Bane also works because its ability only applies to enemies hit with Hydro.
3-star weapons
The Black Tassel is a surprisingly effective weapon, especially with refinements. According to Genshin Lab, a fully refined Black Tassel can boost Yaoyao's HP up to 46.90 percent. It only helps if you need the HP buff for healing, though. Its ability won't help against most of the enemies Yaoyao faces.
Black Tassel (HP) - Increases DMG against slimes by 40 percent.
Best artifacts for Yaoyao
If you want to optimize healing, consider a two-piece Tenacity of Millelith. A four-piece set can also benefit many teams with ATK and shield buffs. Rounding out a build with two-piece Maiden's Beloved or Ocean-Hued Clam can also help emphasize healing effectiveness.
If there isn't a shield character to benefit from the four-piece Millelith buff, it might be better to complement two-piece Millelith with a two-piece Deepwood Memories set for the 15 percent Dendro DMG Bonus. A full four-piece Deepwood Memories set will further lower the targets' Dendro RES, which is ideal for Bloom comps where the focus is on bursting Dendro Cores.
Gilded Dreams and Wanderer's Troupe can spur elemental reaction damage with their 2-piece Elemental Mastery buffs. I wouldn't bother with their 4-piece sets unless your teams fit a very specific niche, though.
To recap, these are the best artifact sets for Yaoyao:
Best for healing/buffs: four-piece Tenacity of Millelith
Best for Dendro DMG: four-piece Deepwood Memories
Hybrid build: two-piece Tenacity of Millelith, two-piece Deepwood Memories
Two-piece: Dendro DMG Bonus +15 percent.
Four-piece: After Elemental Skills or Bursts hit opponents, the targets' Dendro RES will be decreased by 30 percent for eight seconds. This effect can be triggered even if the equipping character is not on the field.
Two-piece: HP +20 percent.
Four-piece: When an Elemental Skill hits an opponent, the ATK of all nearby party members is increased by 20 percent and their Shield Strength is increased by 30 percent for three seconds. This effect can be triggered once every 0.5 seconds. This effect can still be triggered even when the character who is using this artifact set is not on the field.
Best artifact substats for Yaoyao
Yaoyao's Elemental Skill and Burst heal characters based on her max HP. If you're using her as a healer or support character, prioritize HP and Healing Bonuses. If you want to focus on damage or elemental reactions, prioritize Dendro DMG, Crit DMG, Crit Rate, and Elemental Mastery. There's also the option of mixing a little bit of both.
In any case, Energy Recharge will be important. How high it needs to be depends on a number of factors, including the number of Dendro characters on your team, the number of constellations you have, and how often you want to use her Burst. Aiming between 180 and 200 percent is a safe bet for most cases, though. Adjust as needed.
Genshin Impact is available for PC, PlayStation 4, PlayStation 5, iOS, and Android.