6 Essential Items to Farm for Mika Before the Genshin Impact 3.5 Update
The latest Knight of Favonius.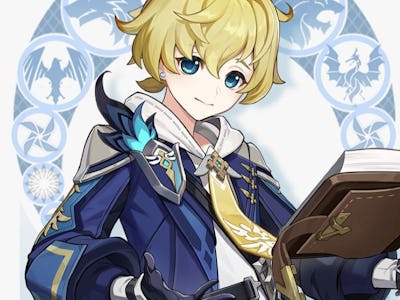 HoYoverse
Mika, the Knights of Favonius Surveyor, finally comes to Genshin Impact in the upcoming update. It's been months since his introduction in the "Of Ballads and Brews" event, so it makes sense that he returns near the time of another significant Mondstadt celebration, the Windblume Festival.
He's a 4-star character, so players might end up with him while rolling for the 5-star units featured during the update. On the bright side, the Genshin Impact community already expects that he could be the ideal Cryo support that Physical DPS units like Eula need to go above and beyond.
Here are six materials to farm for Mika before Genshin Impact 3.5.
Genshin Impact Mika Character Ascension Materials
Mika's official ascension and talent materials haven't been confirmed yet. All we have to go off of are the leaked materials so far, like the pre-farming guide from the Daily Mika Twitter.
Many of these materials are useful resources that you will need for characters either way. Also, because HoYoverse confirmed that Mika is a Cryo Polearm, you definitely need at least Shivada Jade, XP books, and Mora to ascend him. Here's his list of ascension materials so far:
Shivada Jade (1 Sliver, 9 Fragment, 9 Chunk, 6 Gemstone)
Insignia (18 Recruit's, 30 Sergeant's, 36 Lieutenant's)
46 Pseudo Stamens
168 Wolfhook
1. Where to find Shivada Jade
Shivada Jade gems are used to ascend all Cryo characters, including Mika. Note that your World Level may affect whether you get Slivers or Gemstones, so you might need to raise your Adventure Rank to fully ascend him or use an alchemy table. These are the different bosses you can fight to get Shivada Jade:
Aeonblight Drake (Normal)
Coral Defenders (Normal)
Cryo Hypostasis (Normal)
Cryo Regisvine (Normal)
Maguu Kenki (Normal)
Perpetual Mechanical Array (Normal)
Primo Geovishap* (Normal)
Beneath the Dragon-Queller* (Weekly)
Enter the Golden House (Weekly)
Narukami Island: Tenshukaku (Weekly)
Wolf of the North Challenge (Weekly)
The starred bosses change elements every week, so they won't have Shivada Jade each time you challenge them. Double-check for the week before diving into their domains.
2. Where to find Insignia
Insignias are the little badges that you get from defeating Fatui Skirmishers, Fatui Cicin Mages, and Fatui Pyro Agents. You'll naturally collect them from wandering Teyvat, completing Daily Commissions, and finishing other quests. If you don't have enough of them from just playing, you can find them in your Genshin Impact Adventure Handbook.
3. Where to find Wolfhooks
Wolfhooks are typically found growing in bushes around Mondstadt's Wolvendom area. You can typically find them around the Boreal Wolf's arena (marked with an icon of Andrius), but there are other growing places that you can find from the Genshin Impact Interactive Map.
4. Where to find Pseudo Stamens
Pseudo Stamens are signature drops from the latest Sumeru Boss, the Setekh Wenut. It's a "sandworm" that pops in and out of the tunnels in the upper west region of Sumeru. Just make sure to fight it in the location pinpointed with its icon on the Genshin Impact map. Also, bring an Anemo character to break the "bubbles" associated with its specific gimmick.
Mika Talent Ascension Materials
Mika is a four-star character that will better apply to certain team comps more than others. Many players shouldn't need to max his talents, let alone triple crown him. That being said, these are the full list of materials you would need to max out his Normal Attack, Elemental Skill, and Elemental Burst. Some of them should already be familiar from his ascension materials guide.
Ballad Books (9 Teachings, 63 Guides, 114 Philosophies)
Insignia (18 Recruit's, 66 Sergeant's, 93 Lieutenant's)
18 Mirror of Mushin
3 Crown of Insight — Only found in special events
5. Where to find Ballad books
Teachings, Guides, and Philosophies of Ballad can be found in the Forsaken Rift with all the other Mondstadt talent books. Mika is a Ballad character, so you need to farm the Rift on Wednesday, Saturday, on Sunday. Look out for a double drop day for Domains.
6. Where to find Mirror of Mushin
The Mirror of Mushin is a drop from the Balladeer boss, Joururi Workshop. Luckily, Mirrors of Mushin will only be necessary for raising Mika's talents at later levels.
Joururi Workshop, Scaramouche's boss form, unlocks in the later half of the Sumeru Archon questline, Chapter III: Act V - Akasha Pulses, the Kalpa Flame Rises. Newer players will have a harder time unlocking the boss than those of us that have been playing since launch because of how far into the story you have to be. It's not essential to enjoying Mika as a character, though. Just farm what you can.