Here's Exactly When You Can Watch the Genshin Impact 3.5 Livestream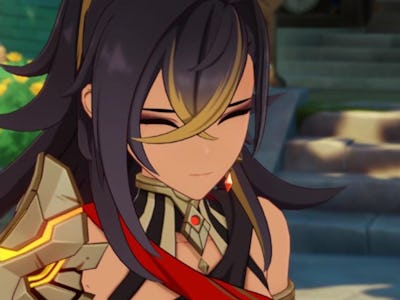 HoYoverse
Gone are the flickering flames of Lantern Rite, now replaced with springtime salutations. Genshin Impact ushers in another update of new characters and seasonal events for Genshin Impact 3.5 . This time, players can expect to see Pryo mercenary Dehya and Knights of Favonius' Mika in the upcoming banners. The finer details for the update haven't been confirmed yet, but that's what the Genshin Impact 3.5 livestream is for. Here's exactly when you can learn about all the new content coming in version 3.5.
What is the Genshin Impact 3.5 livestream start time?
The Genshin Impact 3.5 livestream will start on February 17, 2023 at 7 a.m. Eastern. That's for the Twitch livestream, though. The special program will run again at 8 a.m. Eastern on YouTube, after which it will become a VOD that those who couldn't make either livestream can watch later.
What will be revealed during the Genshin Impact 3.5 livestream?
The Genshin Impact 3.5 livestream will feature the upcoming banners and events, and explain the abilities for new characters. It's Dehya and Mika's debut as playable characters, even if they already starred in the story. Dehya played a major role in Genshin Impact's Sumeru questline, and Mika appeared as a guest character in the Of Ballad and Brews event last year.
The events haven't been confirmed yet, but the Windblume Festival from 2021 is expected to return this year. Windblume is a Mondstadt celebration that takes inspiration from Valentine's Day and Oktoberfest fuses it into one holiday. It debuted near Valentine's Day during its first run, so it wouldn't be surprising for it to follow a couple of weeks after the romantic holiday again.
What are the Genshin Impact 3.5 banners?
The Genshin Impact 3.5 banners will be confirmed during the upcoming livestream. Dehya will definitely be one of the 5-stars running in the first phase, but there are at least three other 5-stars to worry about. The two sets of three 4-stars that will accompany the 5-stars in the first and second phases of the update also haven't been announced yet.
So which of the other 5-stars will rerun in Genshin 3.5 ? It's always a guessing game based on leaks. In this case, the ones in the running include Cyno, Eula, Albedo, Shenhe, and Ayaka. The strongest cases seem to be for Cyno and Albedo, especially because of their chibi livestream art. The both of them appear in promotional art for the different livestream languages.
Genshin Impact is available for PC, PlayStation 4, PlayStation 5, iOS, and Android.