Fortnite Season OG Takes Epic's Battle Royale Back to its Roots
Let's do the time warp again.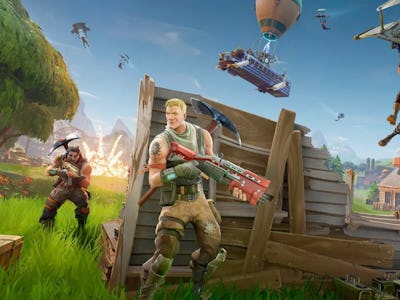 Epic Games
After six years, one major reason Fortnite Battle Royale is still going strong is how much it changes from season to season. With each major update, Fortnite gets not only a hoard of new weapons and abilities but also a new playground to use it all in. From new buildings to massive floods submerging everything in water, Fortnite's map is never quite the same from season to season.
But now, developer Epic Games is turning the clock back.
With Chapter 4 Season OG, which launched on November 3, Fortnite is looking back to Chapter 1 Season 5 and reviving old buildings and items, as an Epic Games blog post details. Every few weeks, a hotfix will change the game again, adding content from later seasons in Fortnite history, with some sticking around in subsequent seasons and others disappearing once the clock advances.
It's a move that's already paying off as Epic takes advantage of one of the most powerful forces in the entertainment industry: nostalgia.
As the season launches, fan-favorite drop spots like Tilted Towers, Risky Reels, and Greasy Grove will reappear on the map. The unvaulted items for the season include the ever-popular Shopping Cart and All Terrain Kart, plus a handful of weapons like the Boogie Bomb.
From there, every week in November brings an update unlocking other classic items and map locations. On November 9, the Double Barrel Shotgun and Quadcrasher enter the rotation along with others for a Season 6 throwback. Seasons 7 and 8 are both featured in the November 16 update, with highlights including the Pirate Cannon and Quad Launcher. Finally, November 23 brings items from Seasons 9 and X, like the Jetpack.
According to Epic, Season OG also has some secrets in store that it hasn't revealed yet. Whether it's hiding more nostalgic throwbacks or brand-new content remains to be seen.
From the very start, Fortnite Season OG seems to be drawing a lot of players eager to go back to the good old days. Within the first few hours of Season OG release, Fortnite had 3.9 million concurrent players, according to the third-party player tracker Fortnite.gg. That's the highest player count ever recorded since the site started tracking players in April 2023. The previous recorded peak was just over 2.8 million players, around the launch of the previous season.
As for why so many people are lining up to return to an earlier version, the answer seems to be simple: nostalgia.
"It's because a lot of people have been feeling nostalgic and also for new players to experience how Fortnite first started the battle royale mode," Luc Bernard, a British game designer who created the Fortnite Holocaust Museum, tells Inverse. "It's pretty awesome that Fortnite is reverting back to its original map. Within Fortnite Creative, I've seen a lot of people try to recreate the map."
Fortnite has now been around long enough for a lot of players to start as kids and still be playing as teens or young adults. Naturally, that's going to create a lot of nostalgia for a simpler time in players' lives, of which Fortnite was a major part for some.
It's a strategy that's worked before with World of Warcraft Classic, a game mode in Blizzard's MMO that recreates the experience of playing the game closer to launch. Like Fortnite Season OG, World of Warcraft Classic saw a surge in popularity and launch and continues to draw an audience.
At the time of its release, executive producer John Hight told CNN, "We have this audience that played it originally, and they want to come back, and then we have this new audience that has never played it and they want to check it out."
Even beyond nostalgia, the pace of Fortnite's updates may be fueling the enthusiasm to revisit earlier eras. Any online game is going to go through plenty of changes, but Fortnite is an extreme case. With major map additions sometimes only lasting for a month or so, players may not have time to grow tired of an update before it's replaced with something else. Fortnite Season OG represents a rare opportunity to revisit a version of the game that doesn't exist anymore, even if it's for a short time.
Fortnite Season OG is available now on PlayStation, Xbox, Nintendo Switch, PC, and mobile.