Ahsoka Tano Just Showed Up in Fortnite — Here's How to Unlock the Star Wars Skin
It's time to bring out the lightsabers again.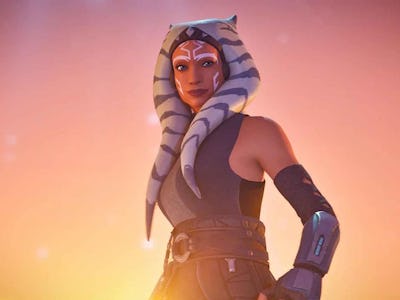 Epic Games
Fortnite and the galaxy far, far away are no strangers to collaborations, as Epic's battle royale is already filled with the likes of Darth Vader, Obi-Wan, and more thanks to past special events. To coincide with the latest Disney+ series, Ahsoka, Fortnite is bringing yet another Star Wars skin to the game with the eponymous lead of the new series. In addition to acquiring the Ahsoka Tano skin, players can accomplish a list of quests to gain even more items. Here's how.
The Ahsoka Tano skin was introduced into Fortnite on September 26, and the first step for players who want to add it to their collection is to purchase the Battle Pass. As with past special skins, players will need to purchase the current Battle Pass for Chapter 4 Season 4, which costs 950 V-Bucks. If needed, you can pay $8 for the 1,000 V-Bucks add-on to give you enough currency to purchase the Battle Pass.
Once you have that, you will get access to a list of quests related to Ahsoka, with each subsequent quest unlocking new cosmetics. The first, and most sought-after, is the Ahsoka Tano skin. To acquire it, players need to collect three Fulcrum Tokens in Relentless Retreat or Breakwater Bay. That is all you need to do to get the Ahsoka Tano skin, but remember to do so before the end of Chapter 4 Season 4 on November 2. Though for those who don't unlock the skin during the current season, it will likely be available for purchase at a later date on the Fortnite Item Shop
If you want to collect the rest of the limited Ahsoka items, then you need to complete the other eight quests. Here is a full list of each reward and what you need to do to get it.
Morai Back Bling — Collect three Fulcrum Tokens in Kenjutsu Crossing or Slappy Shores
Star Map Wrap — Collect three Fulcrum Tokens in Sanguine Suites or Rumble Ruins
Lil' T-6 Shuttle Emote — Gain 1,000 Shields
Fulcrum Ascending Loading Screen — Be the first player to land, search a chest, or eliminate a player in a patch
Banner Icon — Survive Storm Circles while carrying a weapon of legendary rarity or higher
Ahsoka's Staff Pickaxe — Inflict 250 damage on opponents with a melee weapon
Ready Rebel Spray — Complete a job from a Job Board
Watchful Companion Emote — Inflict 1,500 damage on opponents from farther than 20 meters
Fortnite is currently available on Android, PC, Mac, PlayStation, Xbox, and Nintendo Switch.