Fortnite x Dead Space crossover cosmetics and quest challenges, detailed
Just in time for the Dead Space remake.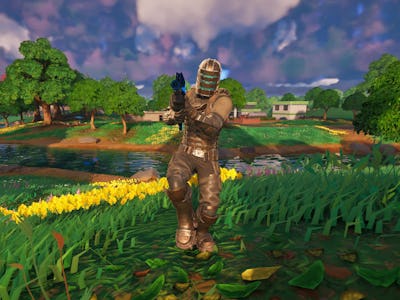 Epic Games, Electronic Arts
Fortnite is the king of crossovers, and the latest introduces a beloved survival-horror game character: Isaac Clarke from the Dead Space series. That's right, the main character of Dead Space has come to Fortnite, just in time for the upcoming remake's release. But how do you get the Dead Space Outfit, what does the bundle include, and how do you complete the associated quests? Here's what you need to know about the Fortnite Dead Space crossover.
Fortnite Dead Space bundle
The Dead Space crossover comes to Fortnite in the form of the Strange Transmissions Quest Pack. Unlike most bundles available in the Item Shop, this one can only be purchased with real cash — not V-Bucks. It'll set you back $12.
This pack does give you the chance to earn 1500 V-Bucks, further incentivizing you to buy in.
The following items are included in the Fortnite — Strange Transmissions Quest Pack:
Isaac Clarke: Outfit
Rig: Back Bling
USG Ishimura: Back Bling
Plasma Cutter: Harvesting Tool
Bench Upgrade: Emote
Strange Transmissions: Quests
Don't forget to swap between the reactive styles for Isaac Clarke's Outfit from within the Locker menu.
Fortnite Dead Space Strange Transmissions quests
While the cosmetics are the main reasons to get your hands on the Dead Space pack, it also includes a set of quests that you should aim to complete, especially since they're relatively straightforward.
The Strange Transmissions quests require you to complete Daily Bonus Goals — most of which are easily done within one match. These cycle in and out in a random assortment, so your list will likely look different from ours.
Each stage of the Dead Space quests requires you to complete more Daily Goals than the last. Since you need to complete three Daily Quests to finish a Daily Bonus Goal, it'll take you a few days to check each one from your list. Remember, Daily Quests replenish every 24 hours. With each stage you finish, you'll earn V-Bucks, with a total of 1,500 for finishing them all.
There doesn't appear to be a timer on these quests for now, but presumably, you'll have until the end of the season to complete them.
The Dead Space remake launches for PS5, Xbox Series X|S, and PC on January 27, 2023.