Final Fantasy 7 anniversary leak reveals the return of a beloved spinoff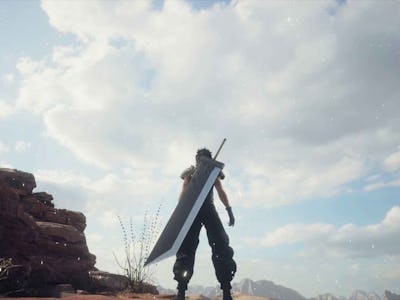 Square Enix
Square Enix is hosting a 10-minute long stream this evening, June 16, to celebrate the original Final Fantasy VII's 25th anniversary. Many fans will be holding their breath in hopes that they will receive new information about the upcoming Final Fantasy Remake Part II. But there is so much more to Final Fantasy VII than just the story of Cloud and Aerith. According to credible leaks, Square Enix may be bringing back a cult hit from the world of Final Fantasy VII.
What's the buzz? — A new leaker on the scene who has proven to be reliable with past leaks about The Last of Us remake and the lineup for Summer Games Fest 2022, is again dropping some potential news. The tweet in question features a screenshot from the end of Final Fantasy VII Remake featuring SOLDIER, and best boy, Zack Fair along with four colored squares.
Who would you rather date: Cloud or Zack from Final Fantasy VII? Let us know!
While the immediate response is to say the leaker is confirming an FF7 Remake Part II tease at Square Enix's event, fans have some speculation that goes a little further. One Twitter user responded to the thread saying, "Why would they put that it's also coming to PS if it's already on PS. This is 100% a Crisis Core reference." The original leaker then liked this tweet, hinting that the original post is about Crisis Core.
Crisis Core: Final Fantasy VII is a PSP game released in 2007. It was helmed by Hajime Tabata, who would go on to direct Final Fantasy XV. While Crisis Core has a cult following, the game hasn't been made available on modern platforms. Some hoped with the launch of Sony's revamped PS Plus that Crisis Core would be added to the lineup of PSP titles available to play. That hasn't happened, which could lend credence to the idea of the title having an imminent return.
Crisis Core is a substantial game, with an average playtime of 18 hours according to HowLongToBeat.com. The likelihood of a full remake seems unlikely, but a remaster for modern consoles could be a great way to keep players appeased as they wait for more information about FF7 Remake Part 2. The colorful squares in the leaker's original tweet are most likely an indication that Crisis Core will be coming to modern PlayStation and Xbox consoles, Nintendo Switch, and PC.
What makes Crisis Core so good? — According to Tabata the reason the team wanted to focus on Zack was twofold. First, he had a predetermined fate in the story. The player already knows his fate when they decide to play Crisis Core. Instead of focusing on building to a climactic ending that needs to wow players, the team was able to build out this character who looms large over the original Final Fantasy 7. Crisis Core becomes an emotional story that focuses on the relationships that Zack builds with the people around them and shows how his actions influence the paths of Cloud and Aerith.
The second reason to focus on Zack was that Tabata wanted the team to feel the pressure of developing a game connected to Final Fantasy VII. The team delivered. Beyond the story that acts as a meaningful companion to its source material, Crisis Core also innovated in gameplay for the franchise. The team had a history of developing traditional RPGs, but Crisis Core was envisioned as an action game.
What emerged was an action-forward system in which the player-controlled Zack. The game features elements of Kingdom Hearts as well as a material system that allowed players to balance the game towards more RPG-oriented or action-oriented gameplay depending on what they preferred. You can trace a direct line between Crisis Core and the gameplay reinvention felt in FF7 Remake.
While it may not be FF7 Remake Part II, the possibility of Crisis Core being more accessible to the public is a wonderful thing. With the way FF7 Remake is playing the meta-narratives surrounding the original title, fans will only benefit from familiarizing themselves with this cult classic. They will also get to play an incredible game in its own right.