Fantasy Life i's Reported Delay Could Save the Game for One Simple Reason
Who has time for another life?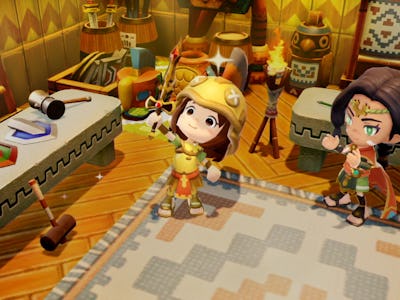 Level-5
I'm a sucker for life sims. I've spent more time than I care to calculate decorating digital houses and growing virtual vegetables. A life sim doesn't even necessarily have to be that good to get me to forget my actual responsibilities in favor of my in-game life. But I couldn't be happier to hear that my most anticipated life sim may have been delayed from this year into 2024.
Fantasy Life i: The Girl Who Steals Time was reportedly pushed back to winter 2024. As first spotted by Gematsu, the report comes from the Ryokutya2089 blog, which has a history of leaking reliable information, often sourced from Japanese magazines like Famitsu before it's translated into other languages. That appears to be the case here, with Ryokutya2089 claiming the release date shift was noted in a magazine ad. Publisher Level-5 did not immediately respond to Inverse's request for comment.
So let's assume the scoop is legitimate. It is getting quite late in the year, after all, and Fantasy Life i still doesn't have a solid release date. A slip to next year felt reasonable to expect even before this report. As excited as I am to dive in, I'm glad it's not coming so soon.
First off, a Fantasy Life primer might be in order. The original Fantasy Life launched worldwide in 2014 after spending two years exclusively in Japan. Like other life sims, Fantasy Life is a slow-paced game that focuses on mundane tasks like decorating your house and taking on jobs like carpentry and cooking. What sets it apart from the likes of Animal Crossing is that it's also an RPG.
Each of Fantasy Life's jobs is a class unto itself, so making clothes requires you to have the tailor class and fishing requires the angler class. Each of these classes has its own quests, storylines, and minigames you play to actually do the work. Like Final Fantasy XIV's jobs, you can switch to a new class in Fantasy Life at any time. Given its RPG roots, Fantasy Life also has plenty of combat jobs that you can change to when you want to tackle some monster slaying, which you do plenty of as you follow its familiar but funny story.
Fantasy Life isn't the only game to mash up the life sim and RPG formulas. Last year's Harvestella did the same thing very well, but it leaned much further to the RPG side. With Fantasy Life, adventuring is a job just like weaving, and neither the domestic nor action aspects really take precedence.
This brings us to Fantasy Life i: The Girl Who Steals Time. From what we've seen so far, it follows almost the exact pattern as the original game, with its focus split between adventuring and less risky jobs, like the new farmer and artists classes. It also adds the ability to terraform your town, rather than just decorating. Like the original, it also includes online multiplayer, so you can at least spend time with your friends as you lose track of your real life.
It's basically everything I want in a life sim — and that's why I hope the delay is real. As has been discussed ad nauseam, 2023 has seen way more than its fair share of banger games already (though, let's not forget it's also been a horrible year for the developers themselves). I'm still slowly crawling my way through Alan Wake 2 when I can work up the courage. I need to start Pikmin 4 and finish Armored Core 6, and I'm absolutely drowning in great indie games from Misericorde to The Banished Vault.
Who has the time to lead an entirely separate virtual life on top of all that?
This late in the year, when we're all busy catching up on 12 months' worth of games we didn't have time for at release, is no time for a life sim. No, life sims are the perfect game for the beginning of the year to hold us over until next year's deluge begins.
Granted, major releases won't take long to arrive in 2024, with Like a Dragon: Infinite Wealth landing in January and Final Fantasy VII Rebirth not far behind. Still, I'd rather see Fantasy Life i rear its head when the Game Awards hype calms down and I can put some time into it without feeling compelled to put it away in favor of the next big thing — at least for a few weeks.
Fantasy Life i: The Girl Who Steal Time will release on Nintendo Switch.