When Is Warzone 2.0 Plunder Coming Out? New Features for the Fan-Favorite Mode, Revealed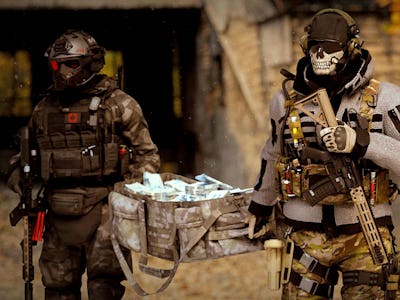 Activision
Since the launch of Warzone 2.0, the cash-focused alternate Plunder mode has been missing, with many Call of Duty players wondering when — and if — it will ever return. Plunder was available right from the start of the original Warzone, so it was surprising that it was missing from Warzone 2.0. Thankfully, Activision has confirmed the mode — known as Plunder 2.0 now — will finally come to Warzone 2.0, but with some additional features to hopefully keep things fresh. But when will it launch and what can we expect from it? Here's what you need to know about the new version of Plunder.
When Is Plunder Coming Back to Warzone 2.0?
While Activision hasn't yet confirmed the exact release date for Plunder 2.0 in Warzone 2.0, the company did confirm it would launch during Season 3. According to a blog post, Plunder will launch In-Season, presumably as part of the mid-season update.
The Season 3 Reloaded update is expected to go live on or around May 10, 2023, which is likely when Plunder will be added. However, since Activision hasn't specified, the fan-favorite mode might come at a different time as part of its own update. The company will reveal the exact release date in the coming weeks.
What Is Plunder 2.0?
Plunder is an Al Mazrah respawn mode that focuses on collecting the most cash instead of being the last squad standing. In it, you'll have a set amount of time to gather as much cash as possible, and the first squad to collect $2 million wins the game. It's more chaotic than traditional battle royale since players continuously respawn with their loadout weapons, making it easier to get into more engagements. You'll find cash on the ground and from chests like you normally would, as well as by completing contracts, events, Strongholds, and Blacksites.
While Plunder 2.0 will play fundamentally the same as its original counterpart, it does come with a slew of new features in Warzone 2.0. Activision announced that new in-game events will occur such as Blood Money. This event grants players double cash for eliminations, incentivizing Operators to play more aggressively. There were also three other events announced, including Cannon Fodder, Contractor, and Choke Hole, but their details have yet to be revealed.
In addition, Buy Stations will feature new items such as a Credit Card (yes, we're serious). After buying this item, you'll gain 10 percent cash back on all purchases, making it good for players who visit Buy Stations frequently. Finally, you can also purchase Life Insurance, allowing you to retain 50 percent of your cash on hand after you're eliminated.