Warzone 2.0 Will Fix the Worst Thing About Its Main Map
A chance to reach its full potential.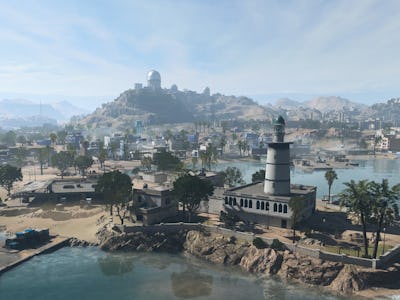 Activision
With Call of Duty: Warzone 2.0 Season 3 right around the corner, there are plenty of updates in the pipeline to get excited about. Season 3 will mark the long-awaited addition of a Ranked mode, the return of Plunder, the implementation of the new FJX Imperium sniper (which is basically the Intervention from 2009's Modern Warfare 2), and more. But one newly announced feature could very well make Al Mazrah fun again. Activision confirmed that Resurgence mode is coming to Al Mazrah during Season 3, which could give us a reason to dive back into the large-scale map.
Stealing the Thunder
Following the February 2023 release of the excellent Ashika Island map, which features the respawn Resurgence mode that's far less intimidating than the traditional battle royale, much of the community quit playing on Al Mazrah. Ashika Island is a fraction of the size and features more fast-paced (and frequent) battles, with less downtime in between. Matches on Ashika are often over in 10 to 15 minutes, while it might take upwards of 25 minutes to finish a game on Al Mazrah.
Because of this, Al Mazrah has taken a backseat to Ashika Island, leaving the original Warzone 2.0 map in the dust. It's not that Al Mazrah is bad, but it's hard to justify spending 25 minutes gathering loot and gear only to get taken out by someone who just so happened to be camping in a random corner as you pass by.
As we said in our review, Warzone 2.0's biggest issue has everything to do with its pacing, which often feels like a slow-paced and oftentimes unrewarding crawl. The map has some fun areas such as the city section and the Observatory, but it still feels too large, even for its 150-player count.
Patching Things Up
That's why adding a Resurgence mode to Al Mazrah would be a welcome improvement, allowing players to get right into the action regardless of how quickly they are eliminated. The Resurgence mode lets players continuously respawn as long as there's at least one team member still alive. There's no intense Gulag skirmishes to worry about, no buy-backs to budget for, and there's nothing but action.
This would naturally encourage more aggressive playstyles because players won't be penalized as much for being eliminated. It would also help players practice getting into more engagements regardless of skill level, which would ultimately lead to more fun overall. As it stands, it's easy to see why players move so slowly on Al Mazrah, but sadly, this means matches feel excruciatingly slow.
It's unclear if the Al Mazrah Resurgence mode will take place on condensed areas of the map like Mini Royale. In the original Warzone game, a similar Resurgence mode was featured on Verdansk, but it focused on a smaller section of the map to condense the scope and ramp up the overall pace of the experience.
This would be ideal for the Warzone 2.0 Al Mazrah version of Resurgence, as it would allow players to enjoy many of the map's best POIs without forcing them to spend time traveling between each hub. Sure, the mode would probably still work with the entire map, but it would certainly feel better with isolated sections that focus on specific POIs instead.
Al Mazrah has a lot of potential but due to its massive scale and disproportionate player count, it's common to go several minutes without encountering other players, making it less fun than Ashika Island.
We'll find out more when Warzone 2.0 Season 3 drops on April 12, 2023.