How to Complete the Search and Seizure Contract in Warzone 2.0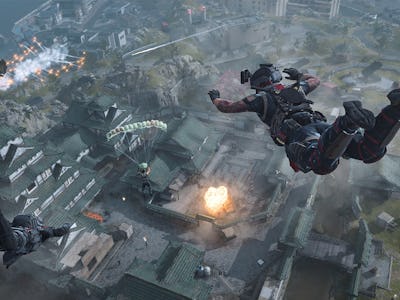 Activision
As part of Call of Duty: Warzone 2.0 Season 2, Activision has added a brand new contract to battle royale. This all-new contract is called Search and Seizure, and it can be a bit of a pain, at least at first. Search and Seizure is available on Ashika Island, the new small-scale Resurgence map, and is tied to the Path of the Ronin event, which rewards you with the Crossbow upon completion. In this guide, we'll show you how the new Search and Seizure contract works and the best strategies to complete it with ease.
How to Complete Search and Seizure
To find Search and Seizure on Ashika Island, you need to look out for the contract indicated by a lock icon. Typically, each match will have a handful of them, so try and pick one that's out of the way to ensure safety.
Trigger the contract and you'll be instructed to recover the stolen "asset" and deliver it to the drop-off location. Once you initiate the contract, a new mission waypoint will appear, indicating the location of a vehicle. Keep in mind, the vehicle type will vary — it might spawn a boat or car.
Make your way to the waypoint to locate the vehicle itself. Upon arriving, you'll come across enemy AI guarding the vehicle.
Then, you simply need to deliver the vehicle to a drop-off location, which is easier said than done since Ashika Island is small. Driving a vehicle on the island will no doubt attract attention from your opponents, so you'll need a little luck when making the delivery.
For best results, we advise sticking to the outskirts of the island if possible to try and stay away from the action. A well-coordinated team can easily take down your vehicle, so avoiding other opponents is ideal. Once you drop it off, you'll earn credit for completing the contract.
For the Path of the Ronin challenge, you need to complete three Search and Seizure missions, and doing so will reward you with the Courage (Yu) loading screen. This particular challenge is required for earning the new Crossbow weapon, so be sure to get them out of the way.
Aside from the challenge itself, we don't recommend aiming to complete Search and Seizure contracts since they basically put a massive target on your back, with very few rewards. We recommend sticking to the standard Bounties and Scavengers if you plan on completing contracts.