Here's How Those Mysterious New Sea Treasure Tokens Work in Warzone 2.0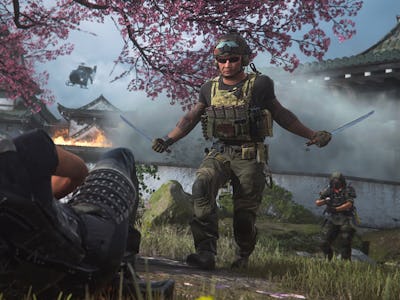 Activision
The new Resurgence Mode Ashika Island is live in Call of Duty: Warzone 2.0, and it aims to speed up the pacing by a considerable amount. The new small-scale map is full of interesting POIs, and new things to discover, including Sea Treasures Tokens. These are items you might've already come across while playing, but what exactly are they and what do they do? Here's what you need to know about Sea Treasures Tokens in Call of Duty: Warzone 2.0's Ashika Island map.
How to Find Sea Treasure Tokens
First, you'll need to get your hands on Sea Treasures Tokens, which are found around the Ashika Island map. Specifically, they have a chance of appearing inside blue chests, so make sure you're thorough while looting.
Blue chests — or Reusable Supply Boxes — are ones that eventually get refilled within a match, offering multiple chances for you to find a Sea Treasures Token. You can also loot them from eliminated opponents, or find them as ground loot in rare instances.
How to Spend Sea Treasure Tokens
Once you have a Sea Treasure Token, what exactly do you do with it? To spend them, you need to visit arcade machines, which are found inside the gas stations around Ashika Island. To find gas stations, simply open up your Tac Map and look for the buildings with the little gas station icons on them.
Inside, you'll find these fun-looking arcade machines that take your Sea Treasures Tokens. Around half of the POIs on the map contain gas stations, so there should be plenty to go around. From our experience, these arcade machines spawned in gas stations consistently, so it seems like you should be able to find them each match.
Sea Treasure Token Rewards
Sea Tokens have the potential to yield excellent rewards from these arcade machines. Though, it's entirely luck-based, as the item you get is completely random. Sometimes, you'll get a powerful killstreak, weapon, or gas mask, while other times, all you'll get is an armor plate (though, given how rare plates are on the island, this still isn't a bad thing). You'll also get 100 XP for your troubles.
As long as you have a Sea Treasures Token to spare, you can keep trying your luck at the arcade machines, hopefully yielding something decent for you. While this system feels a little like gambling, you don't actually have to spend real money on it, so the stakes aren't particularly high. The biggest downside is that Sea Treasures Tokens do take up space in your inventory, and considering only small backpacks are available now, you'll need to choose wisely when deciding to collect one.
Ultimately, the new Sea Treasure Token mechanic is a minor addition that won't really change the game in most cases but is still a neat little feature.