These One-Shot Snipers Are the New Warzone 2.0 Season 3 Meta
Snipers are back in the meta!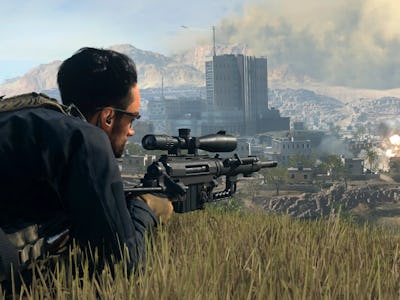 Activision
One-shot snipers are back in Call of Duty: Warzone 2.0 ... kind of. As part of the Season 3 update, Activision reintroduced the ability for certain snipers to down full-plated players in one hit, but with a major caveat: Only bolt-action rifles with explosive rounds can earn a one-shot elimination. Still, this is a great addition, as it makes snipers viable once more. But which snipers are best for earning one-hit eliminations, and how should you build them? These are the best one-shot snipers in Warzone 2.0 as of Season 3 (along with the recommended tunings).
MCPR-300
Muzzle: Nilsound 90 (-1.40, +1.00)
Barrel: 22" OMX-456 (+0.26, -0.27)
Laser: FSS OLE-V Laser (-0.50, -24.68)
Rear Grip: Cronen Cheetah Grip (-1.00, +0.45)
Ammunition: .300 Mag Explosive (+0.70, +9.00)
The main thing to keep in mind when building one-shot snipers currently is that explosive rounds severely impact a weapon's bullet velocity. This means you'll want to build your loadouts to compensate for the slow bullet velocity penalty.
With the MCPR-300, this build is aimed a bit more toward fast playstyles without sacrificing bullet velocity as much. Start with the Nilsound 90 Muzzle for improved sound suppression, bullet velocity, damage range, and recoil smoothness. Next, go with the 22" OMX-456 Barrel to improve bullet velocity, damage range, recoil control, and hip fire accuracy.
After that, we recommend the FSS OLE-V Laser, which boosts the weapon's aim down sights (ADS) speed, aiming stability, and sprint-to-fire speed. Then, go with the Cronen Cheetah Grip for faster ADS speed and better sprint-to-fire times. Finish the build with the .300 Mag Explosive Ammunition to secure one-hit downs.
Victus XMR
Barrel: Executor 546 (-0.21, +0.25)
Optic: SP-X 80 6.6x (-3.00, -0.60)
Stock: XRK Rise 50 (-3.48, -1.24)
Rear Grip: Bruen Q900 Grip (-0.68, -0.39)
Ammunition: .50 Cal Explosive (+0.70, +9.00)
This Victus XMR loadout is ideal for quicks-copers, and is better suited to Ashika Island than Al Mazrah. First, go with the Executor 546 Barrel for improved recoil control, bullet velocity, and hip recoil control. Next, go with the SP-X 80 6.6x Optic, which offers plenty of zoom (including 6.6x and 11.0x).
Follow that up with the XRK Rise 50 Stock, for faster crouch movement speed, sprint speed, and ADS times. Then, we advise using the Bruen Q900 Grip for even better sprint-to-fire speed and ADS speed. Finally, go with the .50 Cal Explosive Ammunition to allow for one-hit downs.
Keep in mind, the sniper meta will likely change over the coming weeks and months as Activision alters the way certain weapons perform.