Everything We Know About Alan Wake 2's DLC Expansions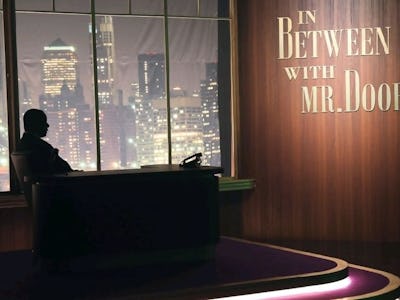 Remedy Entertainment
After 13 years of waiting, Alan Wake 2 finally lets fans continue the story of the tortured writer. While the sequel certainly pushes Remedy Entertainment's cerebral horror story forward, it's also filled with hints for the future of the franchise and the Remedy Connected Universe. That being said, Alan Wake 2 is set to receive a New Game Plus mode as well as two DLC expansions, promising to push things even further. Here's everything we know about Alan Wake 2's upcoming DLC expansions, The Lake House and Night Springs.
When Will Alan Wake 2 Get a New Game Plus Mode?
Alan Wake 2 doesn't currently have any kind of New Game Plus options, but Remedy Entertainment confirmed the feature will come sometime post-launch with a TBD release date. What we do know, however, is that New Game Plus will alter Alan Wake 2 in some interesting ways.
First and foremost, New Game Plus will include an "alternative narrative" that adds new Manuscript pages and video content. It's unclear how drastically this will change the overall plot, but considering Remedy's narrative focus, it wouldn't be surprising to see some big changes.
At the same time, New Game Plus will allow players to carry over all unlocked weapons and upgrades and will add a new Nightmare difficulty.
What Is the Alan Wake 2 DLC Release Date?
Remedy confirmed Alan Wake 2 will get two separate DLC expansions, Night Springs and The Lake House. No release date was shared for either expansion, but they'll likely come out sometime in 2024. The New Game Plus update is also expected long before either DLC.
To compare, the studio's previous game Control also had two DLC expansions. Control released in August 2019, and its first DLC, The Foundation, arrived roughly seven months later in March 2020. The second pack, AWE, released in August 2020. We're likely looking at a similar timeline for Alan Wake 2's DLC.
What Will Alan Wake 2's DLC Be About?
There's actually quite a bit of information shared regarding what both DLC packs will be about, and there are some big connotations for where they could leave events. The first pack, Night Springs, revolves around the fictional in-universe TV show inspired by The Twilight Zone.
"Play as several familiar characters from the world of Alan Wake and experience the unexplainable in multiple self-contained episodes of Night Springs, a fictional TV show set in the world of Alan Wake," the Alan Wake 2 website explains. That means we'll likely play as characters like Barry Wheeler or Sherrif Sarah Breaker. Because this all takes place in Night Springs, it seems the Alan Wake 2 character Mr. Door will play a vital role as he appears to be the key to tying the Remedy Universe together. Video collectibles in Alan Wake 2 also show Night Springs commercials featuring Mr. Door.
The Lake House, on the other hand, seems to connect Alan Wake 2 more closely with Control and its upcoming sequel, which is in the early stages of development. During Alan Wake 2, we learn the Federal Bureau of Control has a research station at The Lake House, but the agency has lost all contact with the workers there. It's a plot thread that's never developed further in the main game, either. "The Lake House is a mysterious facility situated on the shores of Cauldron Lake set up by an independent [federal] organization to conduct secret research… until something goes wrong. Explore the Lake House and embark on two separate adventures as the realities of Saga Anderson and Alan Wake collide again," the game's website says.
Control's AWE expansion directly set up the events of Alan Wake 2, so it wouldn't be a huge leap to think The Lake House might work as an introduction to the story of Control 2.
Alan Wake 2 is available for PS5, Xbox Series X|S, and PC.