Everything we know about Mafia 4
Leaks suggest the fourth installment could arrive soon.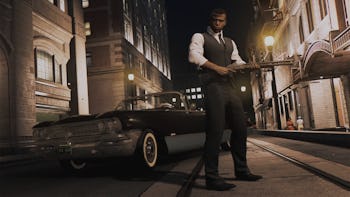 2K Games / Hangar 13
Grand Theft Auto 6 might be still be a few years away, but another organized-crime title may fill the GTA-sized hole in gamers' hearts. Alleged details about Mafia 4 surfaced online Sunday, suggesting the fourth entry of the series could arrive soon after the PlayStation 5 and Xbox Project Scarlett launch.
It's been three years since developer Hangar 13 and publisher 2K games released Mafia 3. The game's final DLC pack launched in 2017 and The Godfather-inspired title received lukewarm reviews, as it played second fiddle to Rockstar's GTA series. But a crop of alleged leaks posted by Redditor /u/TheTruthTeller1985 suggest Mafia 4 could finally break free from GTA's shadow.
TheTruthTeller1985 claimed two anonymous former-Hanger 13 developers and an unnamed journalist revealed that Mafia 4 is well on its way to being finalized. 2K's holding company, Take-Two Interactive, has also recently hinted that it's working on a couple of big sequels for some of its most memorable series.
Here's everything we know about Mafia 4:
When will Mafia 4 arrive?
TheTruthTeller1985 said Hangar 13 began "prototyping" Mafia 4 immediately after the final DLC for Mafia 3 launched. Progress on the project stalled for at least half a year due to "internal struggles." The developer has since assembled a small task force to tackle Mafia 4, and the leaker claimed motion capture for the game began "eight to nine months ago," with an estimated 2021 release.
Mafia 3 was announced in mid-2015, about a year-and-a-half before it hit shelves. That means if 2K follows a similar timeline and the Reddit leaks are accurate, we could get a Mafia 4 teaser in early or mid 2020.
What has 2K said about Mafia 4?
The publisher has not confirmed the release of Mafia 4, but Take-Two Interactive has implied it has a few surprises up its sleeve.
"Looking ahead, Take-Two has the strongest development pipeline in its history, including sequels from our biggest franchises as well as exciting new IP," reads the company's November 7 financial statement.
The release was vague didn't mention any specific franchises, so it could have been referencing BioShock, any of its many sports games, Civilization, and even GTA 6, since Take-Two also owns Rockstar Games.
But Take-Two also registered three trademarks for the Mafia series in September. Its statement and these approved trademark fillings make the series seem like a top contender for what the company has in store in the near future.
What could Mafia 4 be about?
The Reddit leaker claims Mafia 4 will take place in Las Vegas during the 1970s, and it will be a direct sequel to the third entry. Gamers will play as an all-new protagonist during the golden years of organized crime. The leaks didn't confirm if any characters will return from previous games, but that it would be "very Scorsese-esque." That could mean it will be akin to films like The Departed or Goodfellas.
Major Mafia 3 ending spoilers ahead.
Mafia 3's ending would suggest that there will be at least one character coming back: John Donovan, the CIA handler who agrees to help Lincoln Clay — the game's main character — exact revenge on the mob as he builds his own crime organization.
In the post-credits scene, Donovan testifies before a Senate committee for his role in Lincoln's crime spree. He then reveals he was helping Lincoln to investigate the mob's link to one of the conspirators responsible for the assassination of President John F. Kennedy. Donovan also says one of the Senators at the hearing was linked to the President's death and ends up killing him. He then swears to track down anyone else involved in the murder, setting up the continuation of the story.
End of Mafia 3 spoilers.
What could Mafia 4's gameplay be like?
The leaks hinted that Mafia 4 will be much larger in scale than Mafia 3 and will take place over a decade, which could mean the environments will change as the story progresses.
There was said to be a heavy focus on "empire-building," letting players buy land and casinos to rake in the cash. Lastly, Hanger 13 allegedly won't include any of the flashback storytelling that defined Mafia 3, instead keeping everything based in the present.
Mafia 4 has not been announced but it is anticipated to come out for PS5 and Xbox Scarlett…eventually.