Rockstar job listings may confirm recent 'GTA 6' release date rumors
Rockstar seems to be building the 'GTA 6' development team.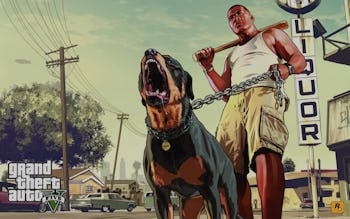 Rockstar Games
The next generation of gaming consoles is just about a year away and Sony and Microsoft have already teased launch exclusives heading to the PS5 and Xbox Scarlett. But there's no other title that gamers are craving more than Grand Theft Auto 6.
It's been more than six years since GTA 5 let players wreak havoc on the virtual metropolis of Los Santos. While Rockstar has yet to confirm a new entry in the franchise, it's almost impossible the company won't follow up its most successful franchise of all time on the PS5 and Xbox Scarlett. What's more, the company has recently shown signs it's amassing what could be the development team for GTA 6.
Both of Rockstar's India and Leeds studios are hiring environment artist and programmers to work on "next-generation games." To top it off, British game developer Ruffian Games recently revealed it was hiring engineers to work on "unspecified titles" with Rockstar.
Most of these studios have ties to the GTA series
Rockstar Leeds supported the development of GTA 5 and spearheaded the creation of Grand Theft Auto: Liberty City Stories, Vice City Stories and Chinatown Wars. Rockstar India is a fairly young studio and has only assisted with the release of Red Dead Redemption 2. But a former 3D animator for the studio revealed in an interview that it was currently working on a "couple" secretive projects.
Ruffian is completely independent from Rockstar, but it's based in Scotland just like Rockstar North, the company's main office. Rockstar North has been the brains behind every GTA game since the 90s, and company could be looking to contract Ruffian employees to help construct a massive new entry in the series.
What could GTA 6 look like?
All of the GTA 6 rumors and alleged leaks have suggested it will once again take place in Vice City with certain missions set in other iconic series locations like Liberty City and new Latin American-inspired locations. Earlier in October, a Redditor claimed to have a source at Rockstar India saying that GTA 6 had started "full capacity development" in summer 2019. The recent job listing could be an effort to bolster that rumored team.
When could GTA 6 arrive?
Even if these details are accurate — and that's a big if — gamers might have to wait a few years into the lifespans of the PS5 and Xbox Scarlett before GTA 6 is released. It took Rockstar eight years to finish RDR 2. Applying a similar timeframe to the next GTA could mean the sixth installment in the series might not come out until sometime around 2026. But a larger team could speed up the process.
A joint effort from Rockstar North, Leeds, India, and Ruffian Games could streamline the development process to bring the game to market a year or two earlier. But gamers will need to wait for a more trustworthy leak, or, better still, an official announcement to know for sure.
Both GTA 5 and GTA 4 were announced two years before release. That means if GTA 6 were coming anytime soon, Rockstar would say something in the near future. Based on all the hints that have appeared online, it seems gamers won't get an official announcement for quite some time.
In the meantime, at least there's compelling evidence to believe that Rockstar is bolstering the GTA 6 development team.