Tiger King Season 2 release date and trailer for Netflix's Joe Exotic doc
The hit documentary takes on a whole new tiger tale. Here's everything we know about the Netflix series.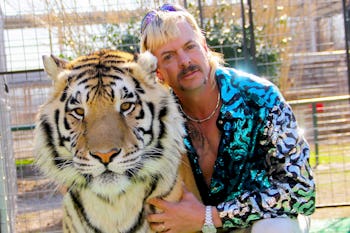 Hey all you cool cats and kittens! The Netflix series Tiger King: Murder, Mayhem, and Madness details the life and secrets of Joe Exotic, the founder of the Greater Wynnewood Zoo in southern Oklahoma, and his feud with Carole Baskin, the founder of Big Cat Rescue in Tampa, Florida. The world of big cats seems to be far weirder than seven episodes could totally contain, and rumors of a possible Tiger King Season 2 have finally paid off. Considering where the show ended, what will it look like?
Here's everything we know about Tiger King Season 2.
Is Tiger King renewed for Season 2?
Yes! Given the show's popularity, its status for renewal lay in limbo for a surprising amount of time. Though renewing a documentary series isn't unheard of, it's certainly unusual compared to other scripted series.
After much speculation, Netflix came through in September 2021 by announcing that Tiger King would be returning for Season 2. The reveal came during the teaser video featured below. Netflix followed up the video with a tweet saying, "Tiger King is coming back this year — and Season 2 promises just as much mayhem and madness as Season 1!"
What happened at the end of Tiger King?
At the end of the limited series, Joe Exotic was arrested for multiple wildlife charges and sentenced to 22 years in prison. The other big revelation was the accusation that Bhagavan "Doc" Antle, owner of the T.I.G.E.R.S. exotic animal park in Myrtle Beach, South Carolina, was euthanizing tigers and burying them on his own property.
PETA accused Antle of selling his tigers to a circus owner. His facility was raided by South Carolina SLED (State Law Enforcement Division) agents seeking to determine whether the three tiger cubs were acquired illegally. Nothing amounted from the raid, and his Myrtle Beach safari park remains open to this day. If you're wondering if they closed to prevent the spread of coronavirus: they reopened in 2020.
A follow-up episode hosted by Joel McHale was not produced by the documentary team but released on April 12, 2020. Titled "The Tiger King and I," it served as an after-show that reunited several people highlighted on the show to give their reactions to the episodes.
Is there a release date for Tiger King Season 2?
It looks like the tigers are coming for Thanksgiving dinner! On September 25, 2021, only a few days after announcing the second season, Netflix posted a video confirming the Season 2 release date as November 17. You can see the video below.
Is there a trailer for Tiger King Season 2?
Not quite yet. But if you're yearning for more videos about the parks involved in Season 1, they produce plenty of content themselves. Carole Baskin's Big Cat Rescue has a YouTube channel featuring videos like "Kitten Wrestling in 3D" and "Valentine's treats for the Tiger Boys." Myrtle Beach Safari's videos are a bit more out there, mostly focused on their chimpanzees, with videos like "Chimps Watch War for Planet of the Apes" and "Chimps Watch the Super Bowl." Despite his recent arrest, Joe Exotic TV even has some pretty recent videos, including quite a few video messages to Donald Trump.
Who is returning for Tiger King Season 2?
From the date announcement above, it looks like the big three exotic park owners — Joe Exotic, Carole Baskin, and Doc Antle — will be returning for Tiger King Season 2. Even Joe Exotic's arrest last year did not deter the show, as the video ended with a shot of him talking from behind bars. It's unknown if any of the other breakout stars of Season 1 will be making a return.
What else can I watch to learn more about Tiger King?
For those anxious for a more in-depth take on the story, there's a Wondry podcast miniseries about Joe currently releasing episodes. Joe Exotic: Tiger King has two of its six episodes out so far, so now's the time to hop on the bandwagon for a whole new take on this eccentric figure.
There are also multiple scripted shows underway based on the Joe Exotic story. One, produced through NBCUniversal, which has Kate McKinnon attached to star as Carole Baskin, and another for CBS Television Studios with Nicolas Cage attached. However, both are in the early stages of development.
Season 2 of Tiger King arrives on November 17 on Netflix.
This article was originally published on