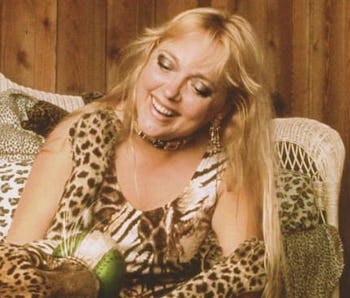 Inverse Codex
Joe vs. Carol release date, trailer, and cast for the Joe Exotic TV show
You haven't seen the last of Tiger King personality Carole Baskin.
While everyone's stuck at home, binge-watching Netflix has become a national pastime. The latest obsession has been with Tiger King: Murder, Mayhem and Madness, a seven-part Netflix documentary series detailing the long-standing rivalry between Joe Exotic (aka Joe Maldonado-Passage aka Joe Shreibvogel), the founder of the G.W. Zoo, and Carol Baskin, the founder of Big Cat Rescue.
What resulted was a long battle of copyright, legal issues, accusations, and finally, the arrest of Joe Exotic himself. He's currently serving 22 years in prison for wildlife charges, but his story lives on. While the tiger tale is wild enough in its factual form, a scripted series is in the works, and a certain comedy queen is attached to play "The Mother Teresa of big cats."
What is the Tiger King scripted series called?
The show is an adaptation of the second season of Wondery's podcast Over My Dead Body, which was simply titled Joe Exotic. The television show initially meant to use the same title but changed it to Joe vs. Carol.
Wondery has capitalized on this newfound Tiger King mania by rereleasing these episodes on streaming services, so you can get a taste of what the series will be like before its release. If you can't wait for the weekly episode releases, all six episodes are available to stream on Wondery's website, but they're behind a paywall.
When is Joe vs. Carol's release date?
Joe vs. Carol's release date is March 3, 2022. The series was announced in November 2019, and filming began in July 2021.
Who is developing the Joe Exotic series?
The project is spearheaded by UCP, otherwise known as Universal Content Productions. UCP is no stranger to adapting podcasts for television, as they've released two already: Dirty John and the Emmy-nominated Julia Roberts series Homecoming. Aside from Joe Exotic, they've got one more Wondery podcast adaptation in the works, Dr. Death. Dr. Death was announced in 2018 and was released on NBC's Peacock streaming service in July 2021.
Who is in the cast of Joe vs. Carol?
Saturday Night Live's Kate McKinnon is on board to star and executive produce the series. She'll be playing Carole Baskin, the founder of Miami animal sanctuary Big Cat Rescue. Her past is a little murky, as the disappearance of her second husband remains unsolved, so there will be lots of material for McKinnon to shine and show off her dramatic chops.
Here's the rest of the cast for Tiger King:
Dean Winters (Oz) as "Jeff Lowe"
John Cameron Mitchell (Hedwig and the Angry Inch) as "Joe Exotic"
Brian Van Holt (Cougar Town) as "John Reinke"
Sam Keeley (Anthropoid) as "John Finlay"
Nat Wolff (The Stand) as "Travis Maldonado"
William Fichtner (Crash) as "Rick Kirkham"
Kyle MacLachlan (Twin Peaks) as "Howard Baskin"
Lex Mayson as "Saff"
Joel Marsh Garland as "James Garretson"
Marlo Kelly as "Jamie Murdock"
Originally, Dennis Quaid was brought in to play the role of Rick Kirkhan. He was replaced by William Fichtner in July 2021 due to a scheduling conflict while filming.
Is there a trailer for Joe vs. Carol?
Yes, Peacock recently release a trailer for Joe vs. Carol.
Where can I watch Joe vs. Carol?
In May 2021, it was announced that Joe Exotic would air exclusively on Peacock, NBC's streaming-only platform. Since launching in May 2020, the service has hosted the reboot of Saved by the Bell, Emmy-nominated The Amber Ruffin Show, and Doctor Death, which is similarly based on a Wondery podcast.
Joe vs. Carol premieres March 3, 2022.
This article was originally published on