Thunderbolts! 8 anti-heroes who could star in Marvel's epic crossover movie
The Thunderbolts are coming to the MCU.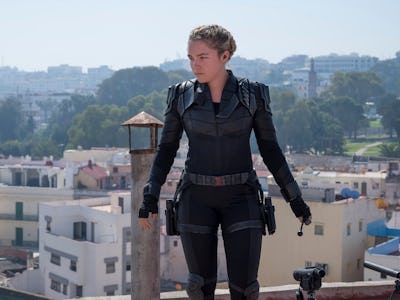 Over the past year or so, Marvel Studios has been planting the seeds for several major big-screen crossovers. From introducing multiple members of the Young Avengers to bringing Kang the Conqueror (Jonathan Majors) into the Marvel Cinematic Universe, the studio has steadily laid the groundwork for a series of event titles that could forever change the power hierarchy of its own multi-media franchise.
Now it looks like one of those long-rumored crossovers is finally coming to fruition. This week, Deadline revealed that director Jake Schreier is set to helm Thunderbolts, an MCU film that will focus on the iconic anti-hero comic book team. While little is known about the project, fans have been speculating for well over a year now that a Thunderbolts-centric project was in the works at Marvel.
That means we already have a pretty good idea of who could star in Thunderbolts. With that in mind, here are the eight MCU characters who are the most likely to appear in the long-rumored crossover film.
Yelena Belova
Out of all of the MCU's characters, there are none that seem more likely to star in Thunderbolts than Yelena Belova (Florence Pugh). Not only does Yelena already have a relationship in the MCU with Contessa Valentina Allegra de Fontaine (Julia Louis-Dreyfus), the character who is expected to put together the Thunderbolts on-screen, but she's also a character who'd fit in extremely well on an anti-hero-centric version of the Avengers.
Plus, Pugh is an actress who has already proven that she can headline a movie, which makes her a prime candidate to star as one of the leads in Thunderbolts.
U.S. Agent
While Wyatt Russell doesn't yet boast the same kind of star power that Pugh does, he's well on his way to becoming one of Hollywood's most recognizable actors. That alone makes him a strong choice to star in Thunderbolts.
The Falcon and the Winter Soldier also established a relationship between his MCU character, John Walker a.k.a. U.S. Agent, and Julia Louis-Dreyfus' Valentina Allegra. Similar to Pugh's Yelena, John Walker is also a character who qualifies as the kind of anti-hero that Marvel undoubtedly wants for Thunderbolts. Walker has, notably, been a member of the Thunderbolts in the comics as well.
Abomination
In Deadline's original report about Thunderbolts, the outlet noted that Tim Roth's Emil Blonsky a.k.a. Abomination was one of the characters who could appear in the crossover film, which makes a lot of sense.
Blonsky has the potential to be an anti-hero in the same vein as Yelena and John Walker, and thanks to both Shang-Chi and She-Hulk, he's set to be someone that MCU fans are very familiar with again. Tim Roth is also the kind of star that Marvel would be foolish not to keep working with, especially in a film like Thunderbolts.
The Winter Soldier
Sebastian Stan's Bucky Barnes was also mentioned by Deadline as being a potential Thunderbolts cast member, and it's easy to see why. He has a history with several of the other potential members of the MCU's Thunderbolts, including Russell's John Walker, and he's someone who's always existed in more of a morally gray space than his fellow Marvel heroes.
Together, those two details make him a strong candidate for whatever version of the Thunderbolts Marvel assembles for the MCU. It's also worth noting that Stan is one of the few longtime MCU stars who could potentially appear in Thunderbolts, which is probably something Marvel is thinking about right now.
Baron Zemo
This one seems like a bit of a no-brainer, frankly.
Not only are the Thunderbolts originally formed by Baron Zemo in the comics, but The Falcon and the Winter Soldier also transformed Daniel Brühl's version of the character into one of the MCU's preeminent anti-heroes. In other words, Marvel wouldn't need to do much to explain Zemo's presence in a Thunderbolts movie. He's also a character who, if handled well, could bring a unique and necessary perspective to Thunderbolts.
Taskmaster
Black Widow didn't explore Olga Kurylenko's Taskmaster nearly as deeply as most Marvel fans hoped it would, but that film's ending did leave the door open for the comic book anti-hero to appear again in the MCU. Whether or not that will actually happen in Thunderbolts remains to be seen, but Deadline did note in its original report that Taskmaster is one of the MCU characters who could appear in the film.
Only time will tell how accurate that claim actually is.
Ghost
Hannah John-Kamen's Ava Starr a.k.a. Ghost is one of the other MCU anti-heroes whose name is being floated around for Thunderbolts right now. 2018's Ant-Man and the Wasp left her future ambiguous, and she hasn't been heard from since that film. Taking that into account, it wouldn't be surprising if Marvel used Thunderbolts to bring her back into the fold again.
Similar to some of the other characters on this list, Ghost is also someone who actually has been a member of the Thunderbolts in the comics.
Red Guardian
This pick is more of a wild card than the others on this list because Alexei Shostakov a.k.a. Red Guardian has never been a part of the Thunderbolts in the comics. Given his undying loyalty to his motherland, it's also a bit difficult to imagine that he'd ever willingly take part in a team run by someone like Julia Louis-Dreyfus' Valentina.
That said, David Harbour stole numerous scenes in Black Widow with his performance as Alexei, and the actor is so well-known at this point that it'd be surprising if Marvel chose not to work with him again. If he were to show up in Thunderbolts, that'd also open the door for Harbour's Alexei to reunite on-screen with Pugh's Yelena, which seems like an opportunity that's too good to pass up.
However, until more details are released about the project, it's impossible to know for sure which MCU characters will actually appear in Thunderbolts. It is, after all, entirely possible that all or none of the characters listed above will show up in the film, and its cast will almost certainly feature a few new faces.
That said, these eight MCU characters do seem like they all have the potential to appear in Thunderbolts, so don't be surprised if at least some of them show up in the team-up film.