She-Hulk theory reveals a shocking MCU timeline twist
Bruce Banner's arms give She-Hulk's place in the MCU's timeline away, one fan posits.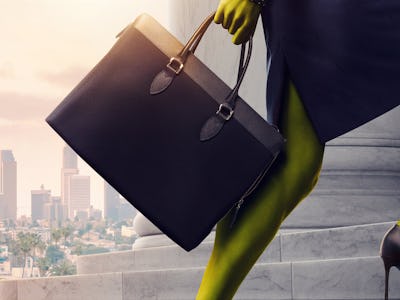 She-Hulk, in all of her muscular green-skinned glory, is stomping in enormous pumps to Disney+ this August, armed with a briefcase and gamma-radiated gams.
She-Hulk: Attorney at Law introduces Bruce Banner's cousin, lawyer and superhero Jennifer Walters, to the MCU. Tatiana Maslany, who previously led the biopunk Canadian thriller Orphan Black, stars as the green giantess.
From the looks of the trailer, which quickly become the second-most watched Marvel Studios teaser, this will be an origin story that borrows from the comics. However, unlike Moon Knight, the plot appears to be directly aligned with the MCU's past projects — The Hulk and other established MCU characters are set to appear — even if where it fits in the franchise's chronology remains a mystery.
On that note, Marvel superfan Duncan Elliott (@duncann_donutss) has a fascinating theory they posted to TikTok about when She Hulk's 10 episodes take place.
What happened?
Elliott explains that fans should have paid less attention to the trailer's half-baked CGI and more to Bruce Banner's (Mark Ruffalo) appearance.
According to Elliott, She-Hulk's narrative must occur in-between Avengers: Infinity War and Avengers: Endgame, because The Hulk's right arm looks normal. Therefore, his arm hasn't yet been mutilated by the Infinity Gauntlet he wields to return the lives Thanos (Josh Brolin) snapped away.
Although the Hulk has regenerative properties, his arm was still in a sling by the post-credits scene in Shang-Chi and The Legend of The Ten Rings, presumably because the injury was caused by a cosmic object of immense power.
The Blip temporarily pulverized half of Earth's population, eliminating superheroes and humans alike for five years. It was a devastating, civilization-altering event, as those left behind had to mourn the confusing loss of countless loved ones while trying to keep society functional.
HBO based an entire critically-acclaimed sci-fi show, The Leftovers, on a similar premise. Conversely, the MCU has spent the past three years and 10 post-Endgame projects brushing past The Blip and pretending it didn't psychologically devastate 50% of humanity.
If She-Hulk: Attorney at Law does take place during the Blip years, viewers will finally get to see what Earth-616 was like without most of its beloved heroes around to save the day, which superheroes stepped up in their absence, and how humanity tried to grapple with this unique tragedy.
Elliott also suggests that a line from the trailer support this theory. Bruce asks his cousin Jennifer "Who's going to protect the world, if not people like you?" which implies that Earth was short on superheroes. Curiously, the voiceover is heard while we see the car accident that threatens Jennifer's life — perhaps such an accident occurs during The Blip, as the driver of the vehicle vanishes?
They also note that Wong (Benedict Wong) and Abomination (Tim Roth) are confirmed to appear. Shang-Chi, which notably takes place after the events of Endgame, shows both Wong and Abomination fighting in Xu Xialing's (Meng'er Zhang) club with zero explanation as to how or why they know each other. She-Hulk, Elliott theorizes, may finally provide the answer.
The Inverse Analysis— Exploring what happened during the Blip not only feels necessary to understand the grand importance of Avengers: Endgame to the entirety of the MCU's slate, but it can also make room to introduce new characters, like She-Hulk, and give them purpose.
Audiences will have to wait until later this summer to see if Elliott's exciting She-Hulk theory is correct. For now, all we can do is hope that the aftermath of Thanos' snap is an integral part of this legal dramedy.
She-Hulk: Attorney at Law shatters through Disney+ on August 17, 2022.