The Other Black Girl Learns the Wrong Lessons From Jordan Peele
Hulu's new workplace thriller is another Get Out copycat — but it didn't need to be.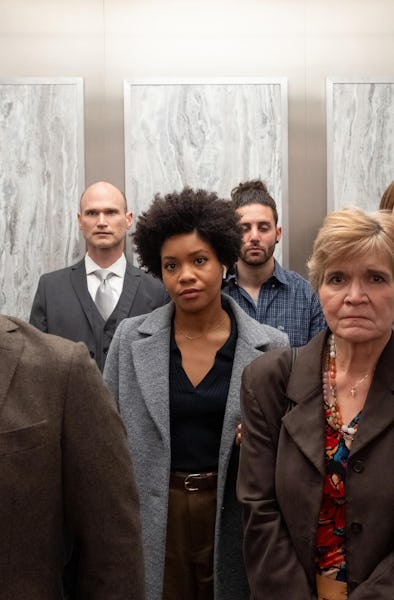 Hulu
The spectrum of Black horror is more much psychological than it is physical. Black filmmakers know that there are scarier things than those that go bump in the night, but depicting the perils of police brutality or the necessity of code switching without alienating a particular audience is still a tricky balancing act. So much of the struggles that minorities face are impossible to point out to those that don't live it themselves — so stories that make that experience tangible, that parse things out via metaphor, have become a necessity.
Racially-coded horror is by no means a new thing, but it wasn't until Jordan Peele made history with Get Out that Hollywood realized how profitable it could be. What began as a way to make tough concepts more digestible became something of a gimmick, one that most can now see from a mile away. Countless copycats have risen up since: some, like Lovecraft Country, manage to make the trend their own. Others — like Hulu's latest series, The Other Black Girl — struggle to balance grounded thrills with a supernatural conspiracy.
It's hard not to think of Get Out, or any of the stories it sired, from the moment The Other Black Girl begins. The series kicks things off with one foot in the past: it's 1988, and Kendra Rae Phillips (Cassi Maddox) is on the run. Kendra Rae is the only Black editor at Wagner Books, the leading publishing company in the nation, but her success seems to have come at grave cost. There's something lurking beneath Wagner's impenetrable reputation, something that has Kendra Rae boarding a skeevy subway car in the middle of the night and riding to the end of the line.
In present day New York, not much has changed. While Kendra Rae hasn't been seen at Wagner for years, she has an unlikely successor in Nella Rogers (Sinclair Daniel). Much like her idol, Nella is the only Black employee at Wagner. She's determined to follow in Kendra Rae's footsteps, become an editor herself, and change the company from the inside out — but there's not much she can do when she's dealing with a patronizing boss and a handful of fake woke coworkers alone.
Enter Hazel-May McCall (Ashleigh Murray), the newest Black woman at Wagner. Just like that, Nella has an ally to wade through the predominantly-white spaces in her professional and personal life — and the tools to finally prove her value.
Hazel's confidence is contagious. She's charming, she's cunning, and best of all, she believes in paying it forward. With her on Nella's side, doors that were once completely inaccessible are suddenly flung wide open. Nella connects with Diana Gordon (Garcelle Beauvais), the best-selling author that wrote Nella's favorite novel, and she gains a venerable ally in Richard Wagner (Eric McCormack), the head of Wagner Books. The closer Nella gets to Hazel, though, the more the cracks in her façade begin to show. She talks a big game about solidarity, but it's hard to believe that she doesn't want to be the only Black girl at Wagner, especially after throwing Nella under the bus within a week of getting hired.
It's here, in Nella's bristling push-and-pull with her new frenemy, that The Other Black Girl is most interesting. Their struggle for power at Wagner feels like a buttoned-up hybrid between Insecure and Gossip Girl. It's the very thing that allows creator Zakiya Dalila Harris — who also authored the novel that the series adapts — to unpack the prickly issues of code-switching and assimilation. Harris serves as one of The Other Black Girl's two creators: she partnered with Rashida Jones to develop her work for the screen. In a lot of ways, it's a match made in heaven, one that gives context to the novel's most nebulous concepts.
Unfortunately, Harris also wants to emulate more heightened thrillers, like the work of Jordan Peele, or Apple TV's Severance — and The Other Black Girl goes to great lengths to do so, often at the expense of the solid story it already has. The series sprinkles a handful of creepy altercations throughout its ten-episode season, the bulk of which point to a conspiracy extending far beyond Wagner's doors.
This does give the series' supporting cast — like Nella's best friend Malaika (Brittany Adebumola) and well-meaning white boyfriend Owen (Hunter Parrish) — the chance to expand the world, and introduce some some pitch-perfect humor. It also forces us to ask which reality is more terrifying: the debilitating, degrading existence that people of color face every day, or the idea that something sinister and otherworldly is actually driving it. In presenting these two disparate worldviews, though, The Other Black Girl is forced to split the difference, and it becomes a weaker show in the process.
If there's anything we've learned from our current state of affairs, it's that Hollywood has an insatiable appetite for intellectual property. The ideas that Peele perfected with Get Out and Us have since become a kind of IP to be recycled again and again, regardless of its necessity or relevance. The Other Black Girl is a fantastic series without any help from the supernatural. It wants to create a new kind of Twilight Zone, one that centers on the plight of Black women, and it's an admirable pursuit. But it doesn't need any of that to convey its brilliant ideas.
The Other Black Girl is currently streaming on Hulu.