The Marvels Finally Fixes a Problem That's Plagued Marvel Since 2014
S.H.I.E.L.D. is long gone. Is S.A.B.E.R. its replacement?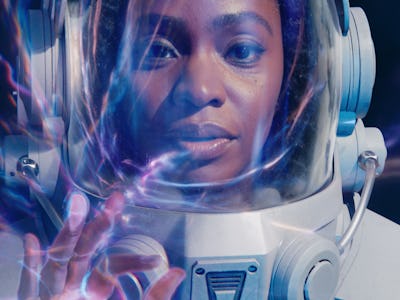 Marvel Studios
Three of Marvel's heroes are blasting off to space in The Marvels, the sequel to 2019's Captain Marvel featuring all three of the MCU's, well, Marvels. But while Carol, Monica, and Kamala get acquainted, they'll deal with yet another acronym organization that's new to the screen.
The Marvels' main focus is on uniting Captain Marvel, Ms. Marvel, and (we're speculating here) Monica Rambeau as Photon. But the movie also shows a fix in the MCU's world-building that dates back to 2014, amid Captain America: The Winter Soldier and Season 2 of Agents of S.H.I.E.L.D.
Since the corruption of S.H.I.E.L.D. and the abandonment of S.W.O.R.D. after WandaVision, the MCU hasn't had an omnipresent counterterrorist group with catchy branding. It's something superhero universes tend to have, because humans always try to level the playing field when aliens and monsters are in the mix. But what's the deal with S.A.B.E.R.?
In the trailer for The Marvels, Samuel L. Jackson's Nick Fury returns for a new mission with Monica Rambeau (Teyonah Parris). That's when Monica switches places with Kamala Khan (Iman Vellani), who in turn swaps with Carol Danvers (Brie Larson). The three soon learn they have a common threat in a yet-unnamed Kree villain played by Zawe Ashton.
Monica is an agent of S.A.B.E.R., a new organization run by Fury. Unlike S.H.I.E.L.D. and S.W.O.R.D. — the latter employed Monica in WandaVision — S.A.B.E.R. is headquartered in space and seems completely independent of Earth's governments. S.A.B.E.R. is new, having no counterpart in Marvel's comic book canon. However. S.A.B.E.R.'s focus on space seems inspired by the S.W.O.R.D. from the comics, which was created as a space-based counterpart to the Earth-bound S.H.I.E.L.D.
With so many similar organizations in the MCU, S.A.B.E.R. might feel redundant. But the MCU has lacked this for a long time.
First there was S.H.I.E.L.D., introduced in 2008's Iron Man as the prototypical superhero counterterrorism group, but it was later dismantled after HYDRA infiltrated it. Years later, S.W.O.R.D briefly took its place in WandaVision, but that fell apart too after its director, Tyler Hayward (Josh Stamberg), committed numerous offenses while managing the Westfield incident.
It's unknown why S.W.O.R.D. fell instead of being reformed, but such is life in the MCU. Instead, the Department of Damage Control took center stage, but that once well-intended institution has become blatantly authoritarian and zealous. That leaves S.A.B.E.R., which so far appears to be S.H.I.E.L.D. in space.
Nick Fury will take center stage in Secret Invasion, a new Marvel series on Disney+ that will finally reveal what he's been up to since the post-credits scene of Spider-Man: Far From Home. While the timeline of Phase Five is still vague, it's safe to assume Secret Invasion will take place before The Marvels, meaning Fury will survive Secret Invasion and launch S.A.B.E.R. Maybe then we'll learn what S.A.B.E.R. stands for.
The Marvels hits theaters on November 10.