David Fincher's Chilling New Thriller Is a Return to What the Director Does Best
In The Killer, Michael Fassbender sticks to the plan — and Fincher goes back to his roots.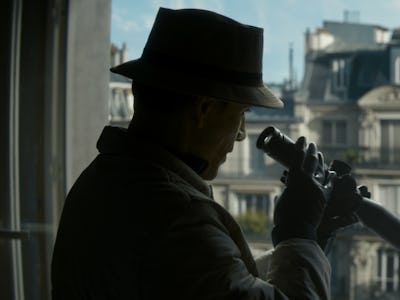 Netflix
David Fincher's ongoing partnership with Netflix has allowed the filmmaker to branch out in interesting ways. The streamer has produced most of Fincher's most recent efforts: they teamed up for Mank, Mindhunter, and even Love, Death & Robots (Fincher directed an episode for the anthology's third season). Still, it's been a while — three years, to be exact! — since the director has returned with another feature. Mank saw Fincher stepping out of his comfort zone in 2020: it represented an interesting pivot for a filmmaker so synonymous with gritty, unsettling thrillers. It was, of course, still totally brilliant ... but anyone hankering for some of Fincher's old style will be rightfully excited for The Killer.
Fincher's latest sees him reuniting with Seven screenwriter Andrew Kevin Walker to adapt the French graphic novel Le Tueur. He's also teaming up with Michael Fassbender (who seems uniquely suited for a Fincher pic) for the very first time. Fassbender plays the eponymous killer, a yet-unnamed assassin that finds himself at the center of a globe-trotting manhunt. Check out the teaser below.
Is it weird to get excited over such eerie, unsettling footage? Maybe, but that's exactly the kind of reaction Fincher fans have come to expect from the director's work — and it's nice to get that feeling again with The Killer. The new Netflix film feels like a return to Fincher's "traditional" tone. It may not be quite as gritty as Fight Club or Seven, but it's got the same chilling vibes (and sickly yellow-green hues) as The Girl with the Dragon Tattoo and The Social Network, and that's definitely enough to drive some hype for the upcoming thriller.
While the Killer teaser keeps most of its plot under wraps, it's shaping up to be an interesting character study for Fassbender's assassin. It'll also, inevitably, be a great showcase for co-stars Tilda Swinton, Charles Purnell, Arliss Howard, and Sophie Charlotte. The Killer will also reunite Fincher with longtime collaborators Trent Reznor and Atticus Ross, the de facto kings of the Fincher soundscape. And if that wasn't enough good news, The Killer will hit theaters this October before it drops on Netflix, so fans have the chance to catch Fincher's latest on the big screen.
The Killer gets a limited theatrical release on October 27. It arrives on Netflix on November 10.