The Flash Trailer Has an Intriguing Dark Knight Easter Egg
The Flash will unite two generations of the Caped Crusader, but does it pay homage to a third?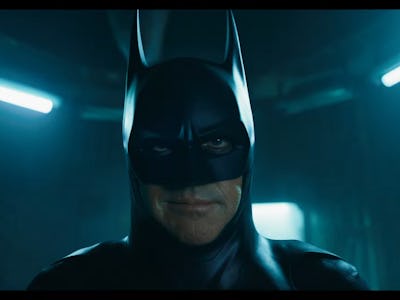 Warner Bros. Pictures
Michael Keaton and Ben Affleck are returning as their Batmen in The Flash, but the upcoming DC superhero epic seems to be paying homage to another Dark Knight: Christian Bale's.
In the trailer for The Flash, released during Super Bowl LVII, Ezra Miller's Flash crosses the multiverse to enter Earth-89, where Michael Keaton's iconic iteration of Batman resides.
Notably, Ben Affleck's DCEU Batman still gets in on the action. In one scene, Affleck's Batman rides on a Batcycle that resembles the Batpod, which Bale's Batman rode in The Dark Knight, and Anne Hathaway's Catwoman used in The Dark Knight Rises. The "Batpod" name comes from the fact that it's an escape pod contained in the Tumbler, which is how it appears in The Dark Knight after the Joker blows up Batman's cool car.
The scenes in The Flash trailer are shot with compositions reminiscent of director Christopher Nolan and cinematographer Wally Pfister's work on the Dark Knight Trilogy. While The Flash's color palettes and effects are vastly different, the design of Bat-fleck's Batcycle and the way it's shot is sure to call to mind Bale's Batman films. However subtle or even intentional the homage is meant to be, it's still quite something for a movie uniting two generations of Batmen to tip its hat to a third influential interpretation.
To be clear, this does not suggest The Flash has a secret cameo. Bale hasn't expressed much interest in playing Batman again, although he did leave the possibility open in a 2022 interview with The Washington Post. While there are rumors Bale will feature in The Flash, sources for such claims are dubious at best. The only confirmed returning Batmen are Michael Keaton and Ben Affleck.
As for who's riding the Batcycle in The Flash, it's obviously Affleck. The Batcycle is visually different from Bale's Batpod, with two front wheels instead of one giant wheel, and a blue rear booster that's indicative of Bat-fleck's handiwork. Batman's cowl is also a dead giveaway, with a silhouette almost exactly like Affleck's cowl.
But if The Flash trailers have suggested anything, it's that even the impossible can happen. Who would have thought Michael Keaton would ever return as Batman, let alone in a movie with Ben Affleck playing him too? If the barriers that separate the multiverse are that thin, maybe it won't take much to see another Dark Knight strike again.
The Flash will open in theaters on June 16, 2023.