The Flash Resets the DCU with Michael Keaton's Batman
The DC Universe is at a flashpoint.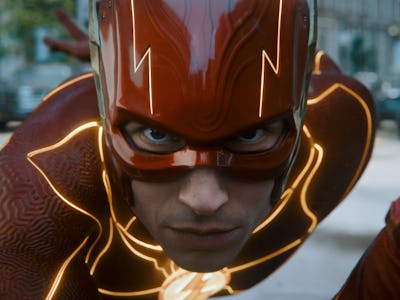 Warner Bros. Pictures
The Speed Force came to the Super Bowl.
During the Super Bowl LVII, Warner Bros. Discovery unleashed the trailer for The Flash, a movie that has gone without a hitch and no controversies whatsoever.
Just kidding. The Flash is one of Warner and DC's biggest releases of the year, not the least of which is due to notoriety over star Ezra Miller.
Since 2020, the Justice League actor has been the subject of numerous allegations involving physical assault, burglary, grooming underage teens, and more. DC's James Gunn and Peter Safran recently addressed the matter of Ezra Miller, noting they are undergoing recovery and, for the moment at least, has DC's support.
It couldn't happen at a stranger time for DC, as The Flash is meant to be a pivotal release that will reboot the DC franchise into its new era that is now overseen by DC Studios co-charis James Gunn and Peter Safran.
Thankfully, the trailer provides some insight into how the DCU will reset. You can watch the trailer below.
In what is clearly a liberal adaptation of the 2011 DC Comics crossover Flashpoint, The Flash shows Barry Allen (Ezra Miller) running back in time to preserve a timeline in which mother — killed by his nemesis the Reverse-Flash, who seems to appear in the trailer once or twice — remains alive.
But Barry's selfish act breaks the DC Universe, creating a world where there are no meta-humans — AKA, no more superheroes.
Luckily, Barry still has some help. The Flash not only finds one of his own timeline doubles, but also Batman. No, not Ben Affleck (although he's in the movie too). Michael Keaton returns as his Batman, from 1989's Batman and 1992's Batman Returns, to aid The Flash in restoring the timeline. There is also another Kryptonian waiting in the wings, in Supergirl (played by Sasha Calle), as well as the shocking return of General Zod, with Michael Shannon reprising his role from 2013's Man of Steel.
While The Flash has been burdened with controversies over its lead star, the movie is now a sudden must-see with its fusion of the DC multiverse and clear potential to start things anew. But will DC fans run to theaters? Time will tell. Welcome to the next era of the DC Universe.
The Flash will race into theaters on June 16, 2023.