"Crisis on Infinite Earths" cast leak reveals Tim Burton 'Batman' crossover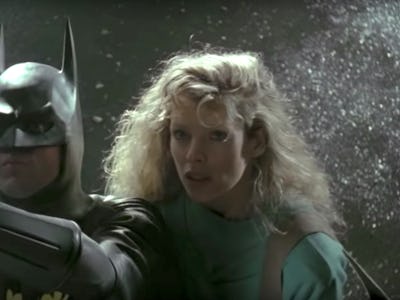 Warner Bros. Pictures
The Arrowverse crossover "Crisis on Infinite Earths" is about to get a heavy dose of Tim Burton's Batman, and maybe even Lucifer. An eyewitness of the set of the TV special, currently filming in Vancouver, is said to have spotted actors Robert Wuhl and Lucifer star Tom Ellis. In Wuhl's scene, he is said to carry a prop newspaper with an archival picture of Michael Keaton, in character as Bruce Wayne from the 1989 film Batman.
On Saturday, Canadian memorabilia blog Canadagraphs — a one-man site devoted to obtaining and selling film, TV, and sports autographs and photos of Hollywood productions shot in the area — published a blog post recounting their eyewitness view of production for "Crisis on Infinite Earths."
"Crisis on Infinite Earths," this year's annual crossover for the DC TV shows on The CW (Arrow, The Flash, Supergirl, Legends of Tomorrow, Black Lightning, and Batwoman), is based on the 1985 miniseries of the same name by Marv Wolfman. In it, the many worlds that make up the DC "Multiverse" vanish by the might of the supervillain, Anti-Monitor. The aftermath of the series resulted in a rebooted DC Universe that allowed a fresh start for all of its characters.
While Canadagraphs did not capture any photos due to fatigue, they did publish their view of the scene featuring Robert Wuhl's cameo:
"A bit later, they did a stunt, and while they were prepping to do that stunt, on a different part of the area, they did a small quick scene with Robert Wuhl reading a newspaper, and he looks up into the sky. This scene takes place on Earth 89, and if you are confused by why that is, you obviously did not watch the 1989 Batman movie. Robert plays Alexander Knox, a reporter in that movie. I unfortunately was too exhausted to wait out that scene, but I did see them rehearsing it with a stand in sitting on the bench in his place. But it looked like they might be awhile till they were filming it, so I called it a night."
As Canadgraphs mentioned, Wuhl had a supporting role in the 1989 Tim Burton film Batman as a newspaper reporter who teams up with Bruce Wayne's love interest, Vicki Vale (played by Kim Basinger).
The newspaper Ruhl reads is the fictional Gotham City Gazette. Before Canadagraphs' report, images of the prop Gazette surfaced online, revealing a stock image of Michael Keaton as Bruce Wayne. The headline reads: "WayneTech CEO - Bruce Way to Marry Socialite Selina Kyle."
Meanwhile, in the same post, Canadraphs mentioned that Tom Ellis, star of the FOX/Netflix series Lucifer, was also spotted on the set of the crossover, allegedly in costume as Lucifer Morningstar.
While the Arrowverse franchise has never made mention to Lucifer, a show developed and producer with an entirely different team from The CW shows, the original comics share a distant connection. The original Lucifer comics were a spin-off of the acclaimed Neil Gaiman series, Sandman, which had some continuity ties and cameos with the DC Universe. Lucifer and Sandman were also published by DC's Vertigo imprint.
Said Canadagraphs:
"I saw Matt Ryan as John Constantine, and Katherine McNamara as Mia Smoak there with of all peopel [sic] Tom Ellis dressed as Lucifer Morningstar. If you are an Arrowverse fan unfamiliar with Lucifer Morningstar, he is a character from a DC Vertigo property named "Lucifer". I also saw David Ramsey at the set, but from the angle I was at, I never actually saw him IN the scene."
The more guests revealed for "Crisis on Infinite Earths," the more likely it is the guest appearances will be brief nods than full-blown storylines. While the special will be spread across five episodes, there simply isn't enough time to tell whole stories with all the guest stars attached to the project. Actors like Burt Ward (Batman, 1966), Kevin Conroy (Batman: The Animated Series), and Tom Welling (Smallville, 2001) are already confirmed to make appearances.
Still, even if the cameos last just a second, the entire special is a celebration for the fans who've spent years watching and enjoying the many DC shows throughout the years. How "Crisis on Infinite Earths" will set up things yet to come is what will really matter.
"Crisis on Infinite Earths" will begin airing December 8 at 8 p.m. Eastern on The CW.