"Crisis on Infinite Earths" will have a "major" impact on 'Batwoman'
How much will the coming crossover event alter 'Batwoman'? A lot, the stars reveal.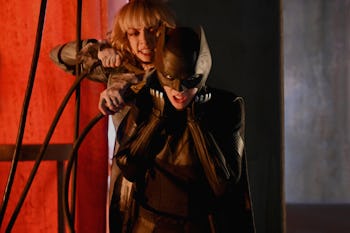 The CW
Kate Kane is only just making her presence known in the Arrowverse, but the upcoming crossover event "Crisis on Infinite Earths" will leave a major impact on her solo series, Batwoman, which premieres October 6.
At New York Comic Con, inside the Hulu Theater at Madison Square Garden, The CW held an advance screening of the Batwoman pilot episode. Afterward, a Q&A panel featuring series stars Rachel Skarsten, who plays the villain "Alice," and Meagan Tandy, who plays Kate's love interest Sophie Moore, answered questions from the fans in attendance.
When one fan asked about how Batwoman will be affected by the events of the crossover special "Crisis on Infinite Earths," Skarsten — who first said that they're "not allowed to say anything" about their characters' involvement — said the event will have "major implications" on the series.
"I'm actually not allowed to say anything about our characters' involvement, but we can say it will have major implications on Gotham City in our show going forward. Major," Skarsten said.
Skarsten then brought up her previous DC series, the 2002 young adult series Birds of Prey, in which Skarsten played one of the series' leads, Dinah Lance, who in the comics fights crime as the Black Canary. "I did an amazing show called Birds of Prey. [And] they brought back the Huntress," Skarsten said, confirming previous reports on Birds of Prey star's Ashley Scott's involvement in the special.
"I was just talking to her yesterday. She actually has her original necklace and she's gonna wear it in the crossover. here'll be so much stuff like that if you were a fan of any or all of it. But that's all we can say."
Based on the 1985 crossover series Crisis on Infinite Earths by Marv Wolfman, the TV special will loosely adapt the comics' concept and feature cameos by actors of other DC TV shows. Characters from The CW's roster of DC shows, Arrow, The Flash, Supergirl, Legends of Tomorrow, Black Lightning, and now Batwoman, will be joined by various actors reprising their roles from shows like Batman (1966), Smallville, and Birds of Prey. Actor Kevin Conroy, who voiced Batman/Bruce Wayne in the Emmy-winning animated series Batman: The Animated Series will also reprise his role in live-action.
John Wesley Shipp, who starred as the Flash in the 1990 TV series and had a major recurring role in the 2014 series, will also return for the special.
Of all the shows in the crossover, Batwoman is the newest series to make its debut. Starring Ruby Rose, the CW show follows Katherine Kane, Bruce Wayne's cousin who takes up the mantle of Batwoman amidst the mysterious absence of Batman.
Batwoman premieres October 6 on The CW.