Prepare for 'Crisis on Infinite Earths' by rewatching 'Smallville' now
And four more streaming recommendations to keep you busy all weekend.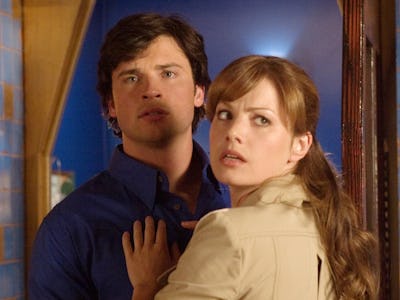 The CW
It's been a big week for fans of Jurassic Park, Superman, and Adam Sandler. The CW's upcoming DC superhero crossover, "Crisis on Infinite Earths," added another classic Smallville character. (Now we're looking at three or more Supermans! Supermen?) Meanwhile, Jurassic World 3 will bring back three iconic Jurassic Park actors (and yes, it's the ones you're thinking of) to hopefully redeem the mediocre reboot trilogy. Finally, we got a first trailer for Adam Sandler's explosive new movie, Uncut Gems, and it's definitely not borophyll.
To celebrate all that — and more — the entertainment team at Inverse is rounding up our best TV and movie streaming recommendations for the week. This is Multiverse, your essential source for the best streaming content and I'm Corey Plante. Here are the streaming recommendations you need to make it through the weekend.
Casper (1995)
Every Adam Sandler movie streaming online
Big Mouth
Jurassic Park (1993)
The best episodes of Smallville
This is a recreation of Inverse's twice-weekly newsletter, Multiverse. Subscribe for free!
Celebrate spooky season early before Casper disappears forever
If you were hoping to rewatch 1995's Casper this October, well, I'm sorry to tell you this, but Netflix is removing it from the streaming library as of October 1. Which means, in addition to hoping Netflix adds Casper Meets Wendy as its replacement, there's no time like the present to kick off the Halloween festivities with this '90s live-action classic about a friendly, pinkiless ghost.
Casper is based on the 1939 children's book, The Friendly Ghost, which later spawned into an animated TV series and, in the '90s, a comic book series by Harvey Comics. In other words, you can thank Casper for leading us to spend most of the '90s believing all ghosts looked like semi-transparent, doughy figures desperate for friendship.
In the 1995 movie, Bill Pullman plays Dr. Harvey, a tritagonist seeking to help ghosts come to terms with their unsettled business and cross over into the afterlife. His daughter, Kat, played by '90s darling Christina Ricci, is dragged along for the haunting ride. When Harvey's work lands him in a deserted gothic mansion in Friendship, Maine, the father-daughter duo soon has a run-in with the house's more supernatural inhabitants — and all hell breaks loose.
Does this film make any kind of sense? Not at all, but it's hokey in all the right ways. Casper is essentially the ghostly version of Cinderella, complete with some obnoxious ghost uncles named Stretch, Stinky, and Fatso, a lonely protagonist, and a wicked villain. Even better — if you're in the mood for a little nostalgia, be on the lookout for some delightful '90s Easter eggs.
I'll leave you with one last thought: How exactly did Casper die? Send your best theories to corey@inverse.com and we'll feature them in the Tuesday edition of Multiverse. — Chelsea
In honor of Uncut Gems, here's every Adam Sandler movie streaming online
Adam Sandler has made a lot of movies. Most of them are dumb but fun (Billy Madison), some are legitimately great (Punch-Drunk Love), and plenty are straight trash. But if the first trailer for Uncut Gems is any indication, the newest Adam Sandler movie looks like a straight-up masterpiece. If you haven't seen the trailer yet, watch it now. I'll wait.
Awesome, right? What's not awesome is that Uncut Gems won't release until December, which means we've got a few months to wait. Why not pass the time by rediscovering the beloved comedian's filmography? Here's a guide to every movie you can stream online starring Adam Sandler, or, as Lakeith Standfield would call him, that "fucking crazy-ass jew." — Jake
Netflix: Murder Mystery (I haven't seen it, but it looks terrible), The Week Of (actually kind of good), The Do Over (skip), The Waterboy (a dumb, fun classic), Bedtime Stories (skip), The Cobbler (skip), You Don't Mess With the Zohan (it's super problematic, but I kind of love it), The Ridiculous 6 (SKIP), Sandy Wexler (skip), The Meyerowitz Stories (a legitimately great movie), Adam Sandler 100% Fresh* (solid standup with a touching Chris Farley tribute).
Hulu: Punch-Drunk Love (Sandler + Paul Thomas Anderson = awesome weirdness), 50 First Dates (a classic), Anger Management (who doesn't love Jack Nicholson?).
HBO: Nothing
Amazon Video: Nada
Finally, here's all the Adam Sandler movies you can't stream anywhere without paying for the specific film: Grownups, Billy Madison, Big Daddy, Happy Gilmore, The Longest Yard, The Wedding Singer, Click, Grownups, Grownups 2, Little Nicky, Funny People, Eight Crazy Nights
Big Mouth is the most important and relevant adult animated series ever — watch it before Season 3 drops
Take it from a guy who spends most of his time living, breathing, and drinking Rick and Morty (I have a really cool Adult Swim water bottle!), Netflix's Big Mouth — created by Nick Kroll, Andrew Goldberg, Mark Levin, and Jennifer Flackett — is probably the most important and relatable series in (adult) animation. With Season 3 hitting Netflix on October 4, you simply must start watching this series if you haven't already.
The premise is kind of a hilarious nightmare, following a group of seventh-graders navigating through the struggles of puberty with particular focus given to best friends Nick Birch (Nick Kroll) and Andrew Glouberman (John Mulaney), except the series throws a ridiculous twist into the mix in the form of Hormone Monsters and other supernatural beings that offer advice. Their function is quite literally to be the hormone-powered voice in a person's mind, urging them on to do things that are often overwhelmingly bad.
Other big adult animation series like Rick and Morty or BoJack Horseman might resonate with audiences more in terms of popularity, but given how endlessly relatable and uproariously surprising and funny Big Mouth is, it really should be required viewing for all people ages 12 through 120. — Corey
Must go faster! Rewatch the greatest on-screen trio of all time in the original Jurassic Park
Luke Skywalker, Han Solo, and Princess Leia made a terrific team in the original Star Wars, but that hot chemistry wasn't recreated in another big blockbuster until 1993's Jurassic Park. When Sam Neil, Laura Dern, and Jeff Goldblum played Alan Grant, Ellie Sattler, and Ian Malcolm, the geek universe was given one of the most accidentally perfect love triangles in any movie ever.
Obviously, that scene in Star Wars where Luke acts all huffy about Han being interested in Leia is funny, but we can't get into it anymore because we know Leia is his sister. But, how about the car ride scene in Jurassic Park where Malcolm flirts with Ellie by putting drops of water on her hand and talking about chaos theory! Oh yeah! That's the fire I'm talking about!
This week, news broke that all three of these characters will return for Jurassic World 3, which is the first time all three actors have assembled since 1993. Considering there have been four Jurassic movies in between then and now, the fact that no one has managed to get all three of these crazy kids back to hanging out with dinos is crazy. But, either way, while we impatiently wait for 2021 to roll around, we can easily get our Alan/Ellie/Malcolm fix on right now and watch the classic Jurassic Park on Amazon. — Ryan
Rewatch the foundations of the Arrowverse in Smallville
Smallville actors Tom Welling and Erica Durance, who played Clark Kent and Lois Lane, are joining the growing number of characters in the Arrowverse crossover "Crisis on Infinite Earths."
Naturally, now is the best time to revisit the series that documented the humble origins of Clark Kent years before he became Superman. In fact, Welling didn't suit up as the iconic superhero until the final moments of the finale. With 10 seasons and over 200 episodes, there is plenty of greatness to choose from, but here are just a few of the best Smallville episodes to watch before Welling and Durance officially join the Arrowverse. — Mae Abdulbaki
Season 4, Episode 1: "Crusade" — A must-watch. It gave us the epic introduction of Erica Durance as Lois Lane (arguably one of the best versions of the character to date). She finds Clark, who's been reprogrammed and sent back to Earth, standing in the middle of a cornfield with "S" inscribed on his chest. And so began their exciting friendship-turned-romance.
Season 9, Episode 11: "Absolute Justice" — This two-hour episode, written by Geoff Johns, introduced Clark to the Justice Society of America (Hawkman, Stargirl, etc.) and, through flashbacks, offered a look at the JSA of old (Green Lantern, the Flash, and more). Oliver Queen, Clark Kent, and Martian Manhunter joining forces was a dream team-up that set the stage for future Arrowverse crossovers.
Season 2, Episode 4: "Red" —The first time Clark fell prey to Red Kryptonite (something that would occur several more times throughout the series), it gave Tom Welling a chance to really flex his acting muscles. He spends most of the episode being a stereotypical bad boy, causing a lot of trouble around town, and that's all you really need to know.
Don't forget to subscribe to the Multiverse newsletter!