Tom Welling's 'Smallville' Superman to return in 2019 Arrowverse crossover
A third Superman joins "Crisis on Infinite Earths."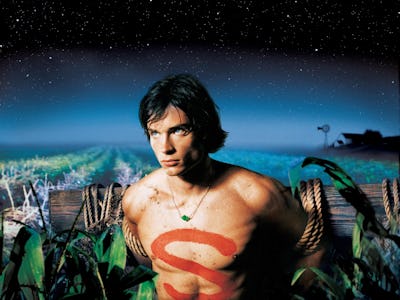 Warner Bros. Television
Somebody save me, because Smallville is back! Tom Welling, who played Clark Kent/Superman (or, "The Blur") for ten seasons on the TV show Smallville, will return to reprise his role in the upcoming Arrowverse crossover, "Crisis on Infinite Earths."
On Thursday, Entertainment Weekly confirmed Welling's return to TV as Superman with quotes from executive producer Marc Guggenheim. The crossover, based on the 1985 DC Comics event miniseries, is confirmed to take place after Smallville, which means Welling will indeed be Superman and not his earlier, leather jacket incarnation, "The Blur."
"For eight years, Arrow has stood on the shoulders of Smallville. Simply put, there would be no Arrow, and no Arrowverse, without it," Guggenheim said. "So when we first started talking about 'Crisis on Infinite Earths,' our first, second and third priorities were getting Tom to reprise his iconic role as Clark Kent. To say that we're thrilled would be a Superman-sized understatement."
Later, on Twitter, Guggenheim said: "So excited. Tom is incredible. Bringing back his Clark is something we always wanted to do for Crisis."
For ten seasons, beginning on The WB and into when the channel became The CW, Welling started as a teenaged Clark Kent discovering his powers in his small Kansas town. While the series would eventually feature characters like Green Arrow, Black Canary, Cyborg, Martian Manhunter, Supergirl, and Impulse, it stuck to its grounded vision by keeping Welling out of his Superman costume until the very end.
Instead of the blue tights and red cape, Welling's "The Blur" donned leather jackets that bore the House of El insignia on the chest. It's one of the easiest (and coolest) costumes you can do, so if you need any ideas for Halloween, the Arrowverse just gave you some nostalgic inspiration.
In 2012, DC Comics published Smallville Season 11, a comic book series that continued Clark Kent's journey as Superman. It was there in the series that Clark Kent finally met his greatest enemy turned ally, Batman.
Not only will fans finally reunite with Welling's Superman in the special, which will air over episodes of Arrow, The Flash, Supergirl, Legends of Tomorrow, and the new series Batwoman, but he's actually the THIRD Superman to appear in the event. Besides Welling, there is Tyler Hoechlin (from Supergirl) and Brandon Routh (reprising his role from the 2006 film Superman Returns).
Last year for "Elseworlds," the Arrowverse franchise paid homage to Smallville by returning to the same farm where the show was originally filmed. As Oliver Queen and Barry Allen jumped a portal to go to Smallville and request help from Supergirl, the episode played the Smallville theme song "Save Me," performed by Remy Zero.
If you wish to revisit Smallville now, or brush up before the crossover, the show is available to stream in its entirety on Hulu.
"Crisis on Infinite Earths" will premiere Sunday, October 6 on The CW.