The Boys Season 3 Episode 5 release date, start time, plot, cast for Amazon's superhero show
Soldier Boy is loose, Kimiko is flat-lining, and Billy Butcher's team is disintegrating fast!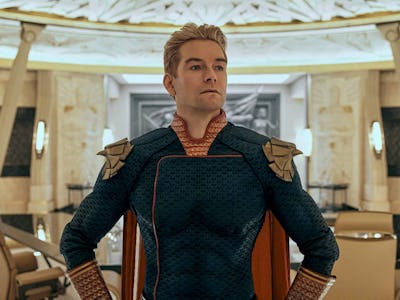 We're barrelling over the halfway hump of The Boys Season 3. (Yes, my friends, Herogasm is coming soon.) So once the blood and guts are mopped up and we've gathered our collective sanity after last week's mayhem, let's press on with a quick refresher to set the stage for The Boys Episode 5.
In Episode 4, "Glorious Five Year Plan," Billy, Hughie, MM, Frenchie, and Kimiko took a private jet to Mother Russia courtesy of kingpin Little Nina where they attempted to infiltrate the secret lab thought to contain a super-weapon needed to crush the increasingly psychotic Homelander.
And who can forget that riotous scene where a bloated Russian oligarch suffers death by dildo at his mansion, when Kamiko gets medieval with the gangster's supe-themed sex toys. The right tool for the job was Black Noir's "Silent Screamer." Here, nothing ever exceeds like excess!
Victoria Neuman, that head-popping high priestess of the Federal Bureau of Superhuman Affairs, has a few devilish tricks up her sleeve as she hangs scheming Vought CEO Stan Edgar out to dry at a press conference and shifts blame from Homelander's birthday party outburst to Edgar's supposed corruption.
Back at the Russian lab, Billy Butcher shoots up more Temp-V and slices through henchmen with his laser eyes like a hot knife through butter. Even Hughie gets into the action by sneaking a vial for himself and taking out some thugs in gruesome style via his new teleportation skills.
The team discovers a secret chamber containing… an ageless Soldier Boy who emerges in a cloud of steam and attacks Kimiko with a red energy burst that destroys her self-healing properties.
Finally, Homelander takes Starlight on a little romantic flight up to a rooftop where Supersonic has been savagely dismembered as a warning to her about ever ganging up against him.
Okay, let's cozy up to this week's Episode 5 titled, "The Last Time To Look On This World Of Lies," and see what sort of diabolical mischief is next!
When is The Boys Season 3 Episode 5 release date?
The Boys Season 3 Episode 5 will air exclusively on Amazon Prime Video starting Friday, June 17, 2022.
What is the release time for The Boys Season 3 Episode 5?
Amazon Prime Video releases new movies and TV shows at midnight Pacific, which is 3 a.m. Eastern.
How many episodes are left in The Boys Season 3?
The Boys Season 3 will run for a total of eight episodes. With a trio of chapters landing for the big premiere on June 3, we're now past the midpoint and bolting towards a July 8 finale.
What can we expect from the plot of The Boys Season 3 Episode 5?
The main cliffhanger of Episode 4 was Kimiko suffering severe injuries from Soldier Boy's devastating energy blast. Her fate is up in the air as she's rushed to a hospital for emergency treatment. With Soldier Boy on the loose and operating with some sort of insane super-enhanced weaponry, the team will be lucky to get out alive without more casualties. But they need him!
Victoria Neuman dosed her own daughter with Compound V last week so it will be interesting to see what sort of powers she develops. Starlight and Homelander's fake romance might ramp up before next week's orgiastic "Herogasm" episode as the supes take a Vought-sponsored vacation to a private island retreat where anything goes.
With Billy and Hughie both amped up on Temp-V and MM declaring the team over, how will they keep it together to attain their goals of tracking down rogue Soldier Boy and finding the super-weapon to kill Homelander? On another front, could Ryan reappear to save the day?
Who is in the cast of The Boys Season 3 Episode 5?
Returning cast members include Karl Urban (Billy Butcher), Antony Starr (Homelander), Jessie T. Usher (A-Train), Karen Fukuhara (Kimiko), Nate Mitchell (Black Noir), Jack Quaid (Hughie Campbell), Laz Alonso (Mother's Milk), Erin Moriarty (Annie/Starlight), Chace Crawford (The Deep), Dominique McElligott (Queen Maeve), Claudia Doumit (Victoria Neuman), Giancarlo Esposito (Stan Edgar), and Tomer Kapon (Frenchie).
Besides those familiar faces, Season 3 is also packed with a parade of new supes. Jensen Ackles (Supernatural) portrays Soldier Boy, an '80s-era Captain America-like superhero who served in World War II and was officially promoted as America's first super celebrity. Others include Sean Patrick Flanery (Dexter) as Gunpowder, Nick Wechsler (Revenge) as Blue Hawk, Miles Gaston Villanueva (Nancy Drew) as Supersonic, and Kristin Booth (Orphan Black) and Jack Doolan (Marcella) as TNT Twins Tessa and Tommy.
Laurie Holden (The Walking Dead) has also joined the cast as the plasma-blasting Crimson Countess, as has Katia Winter (Dexter, Sleepy Hollow) portraying Russian mobster, Little Nina.
Is there a trailer for The Boys Season 3 Episode 5?
There is no official teaser for Episode 5, "The Last Time To Look On This World Of Lies," but you can watch Prime Video's official Season 3 release trailer here:
Will there be a The Boys Season 4?
Amazon Prime Video revealed on March 22 that thankfully there will be a The Boys Season 4. Additionally, Karl Urban confirmed that he'll be busy filming next season through the end of 2022, guaranteeing the brutal bloke will be back for more hyper-violent mayhem.