The Boys Season 3 Episode 4 release date, time, plot, and trailer for the Amazon Prime series
Prepare for more diabolical mayhem with the gang off to Russia to track down Soldier Boy.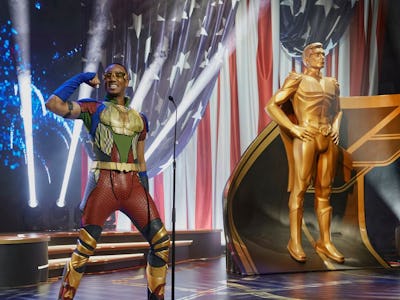 The Boys has been fertile grounds for some of the most outrageous scenes in the history of television. Between the Deep's porpoise paramour catapulting through a van windshield, Popclaw's killer orgasm, and Billy Butcher at the helm of a whale-penetrating speedboat, it's all fair game in this universe.
So far Season 3, which premiered on June 3, 2022, has somehow managed to elevate that level of extreme carnage. This first group of episodes also gave us surprise cameos by Charlize Theron and Billy Zane, and we've finally learned what's going on with Stillwell's son Teddy in the aftermath of Stillwell's murder by Homelander in Season 1.
Now it's time to soldier forward and see what depravities are in store for this week's episode of The Boys, "Glorious Five Year Plan."
When is The Boys Season 3 Episode 4 release date?
The Boys Season 3 Episode 4 airs exclusively on Amazon Prime starting Friday, June 10, 2022.
What is the release time for The Boys Season 3 Episode 4?
Amazon Prime Video releases new movies and TV shows at midnight Pacific, which is 3 a.m. Eastern.
How many episodes is The Boys Season 3?
The Boys Season 3 will run for a total of eight episodes. With a trio of chapters landing for the big premiere last week, we're already halfway to the July 8 finale.
What can we expect for The Boys Season 3 Episode 4?
With the whole band back together and everyone heading to Russia to unravel the truth behind the mysterious superweapon that took down Soldier Boy in 1984, this season is shaping up to have a serious impact.
The Boys are hoping this device can also take down Homelander, while a resurrected Soldier Boy is destined to appear and provide revelations that will propel the plot in some intriguing directions.
Billy Butcher is still feeling the frightening aftereffects of the "temporary" Compound V serum, and artificial love is in the air as Homelander and Starlight announced they're an official couple, so tension on that front will surely ignite.
Is there a trailer for The Boys Season 3 Episode 4?
There's no official teaser for Episode 4, "Glorious Five Year Plan," but preview imagery has made the rounds showing The Boys' Russian adventure with Butcher unleashing more deadly light from his laser eyes and Soldier Boy emerging from a steel containment pod.
Will there be a The Boys Season 4?
Yes, Amazon has confirmed that we'll be getting another season of The Boys.
The Boys Season 3 Episode 4 premieres on Amazon Prime Video on June 10, 2022.