Ninja Turtles: Mutant Mayhem Trailer Proves How Spider-Verse Changed Animation
The Ninja Turtles are taking a page from Spider-Man's sketchbook.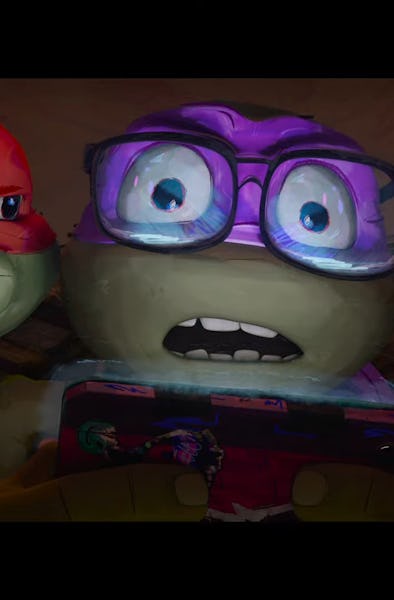 YouTube.com/Paramount Pictures
Spider-Man: Into the Spider-Verse isn't the highest-grossing animated movie of all time. But over five years since it won acclaim in late 2018, it's increasingly clear how much it left a lasting impression. One look at the new Teenage Mutant Ninja Turtles only proves it.
On Monday, Paramount Pictures released the trailer for Teenage Mutant Ninja Turtles: Mutant Mayhem, a new animated feature film in the Ninja Turtles franchise. (It is also the first animated Ninja Turtles movie in 16 years, after 2007's TMNT.)
Produced by "Permanent Teenager" Seth Rogen and directed by Jeff Rowe (The Mitchells vs. the Machines), Mutant Mayhem sports a stylized comic book look that stands apart from the photorealism that has dominated animation since Pixar's Toy Story in 1995. Instead, it looks a lot like Into the Spider-Verse, albeit with its own flourishes that differs from Spidey's Oscar-winning picture.
Little is known about the plot of Mutant Mayhem, other than what's obvious: The Ninja Turtles rise from the sewers of New York City for the first time to save the world (or at least the five boroughs) from their archenemy, Shredder. You can watch the trailer below.
With jagged edges, pencil-like textures, and physical movement that closely resembles Spider-Verse — not to mention a chill sense of humor adults might find as entertaining as kids — it's now clear the Ninja Turtles are about to have its own "Spider-Verse."
While indie animators have always experimented with riskier styles, bigger studios have long resisted trying anything other than the half-cartoony, half-high fidelity look that Pixar, Disney, and DreamWorks popularized for years. A recent video by Vox revealed a handful of films from the 2000s, like 2006's Monster House and 2008's Bolt, actually strove for the stylized look that's popular today. But attempts were halted by investors over fears the movies would fail at the box office. The realistic style was, as Vox put it, "popular, reliable, and safe."
The Peanuts Movie in 2015 felt like a step in this new direction. But the buzzy release of Spider-Man: Into the Spider-Verse three years later proved audiences want something new. More recent releases like The Mitchells vs. The Machines, The Bad Guys, and the sleeper hit Puss in Boots: The Last Wish are proof of Spider-Verse's legacy, even if the box office grosses to these movies pale in comparison to, say, The Incredibles 2.
It's also not unwarranted for the Ninja Turtles to have style like Spider-Verse either. The Turtles franchise is maybe the most artistically flexible kids' franchise in history, as nearly every Ninja Turtles production looks unlike the other. (Compare the anime-inspired 2003 series to the 2012 CGI series.) Also like Spider-Man, the Ninja Turtles started in comics by artist/writers Peter Laird and Kevin Eastman, who formed Mirage Studios out of their apartment living room. The original Teenage Mutant Ninja Turtles comic was a parody of Marvel's X-Men and Daredevil, and is a lot more violent than you might expect.
The Ninja Turtles have come a long way from their origins as grungy doodles in Laird and Eastman's sketchbook, to a now-multimillion dollar franchise owned by Nickelodeon. But based on their new look exhibited in the trailer for Mutant Mayhem, it feels like the Turtles are reconnecting with their roots. They only had to copy Spider-Man to do so.
Ninja Turtles: Mutant Mayhem opens in theaters on August 4, 2023.