Superman: Legacy is Already Taking a Big Risk With Its Plot
Shouldn't a Superman film just focus on... Superman?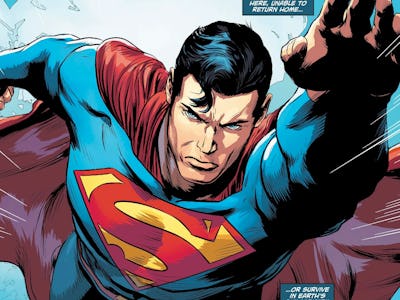 DC Comics
DC's upcoming film, Superman: Legacy, is picking up steam. After writer-director James Gunn locked down a leading man in David Corenswet, casting updates have been rolling out left and right. Legacy will introduce a handful of heroes to DC's new universe, and a recent addition represents an especially interesting development.
Barry break-out Anthony Carrigan is the latest to join Legacy as Metamorpho, a hero that can alter his body into any shape by harnessing natural elements. Per The Hollywood Reporter, Carrigan will join Isabela Merced, Edi Gathegi, and Nathan Fillion as the film's newest additions. Whatever their role in Legacy, we'll finally get to see how Superman plays with heroes outside of the Justice League. But there's also a sense that Legacy is getting a bit crowded.
Legacy will apparently introduce its title character to a world already teeming with superpowered beings. There may even be a few super groups — like The Authority or The Terrifics — operating on Earth before Kal-El dons the red cape. Apart from Superman himself, Legacy will introduce Hawkgirl (Merced), Mister Terrific (Gathegi), and a Green Lantern, Guy Gardner (Fillion). With Metamorpho boarding the film as well, that doesn't leave much room for the Man of Steel.
Gunn and his co-chair at DC, Peter Safran, have spoken at length about their new approach to the DC Universe. The duo has been building out "a big, huge central story," according to Gizmodo, and Legacy will serve as the foundation. There's nothing wrong with introducing a few new heroes in a Superman movie, but it's also important to let the title character stand on his own, especially in his first DCU outing. Four different heroes are already set to appear in what was touted as a solo film, and more could be coming. It feels like Gunn and Safran are thinking too far ahead with Legacy, and using Superman to pave the way for future projects.
According to Gunn, though, each casting choice is a deliberate one. Every new character in Legacy will advance the story of Superman, not detract from it. "I've never used one movie to set up another movie," Gunn recently said on Threads. "The characters are there because they help to tell Superman's story better, not so we can set up separate projects in the franchise."
Gunn is charting an interesting course for Superman. Legacy is not an origin story, nor will it depict much of Kal-El's upbringing in Kansas. The film will likely introduce the character during his early years as Superman, and explore how he balances that with his day job at the Daily Planet. If that's the case, Gunn may be using these new heroes to explore a different side of Superman, one that's usually occupied by his relationship with Krypton. We'll have to wait and see if Legacy can pull it off, but the last thing anyone wants is an ensemble piece. Hopefully, Gunn remembers that.