James Gunn's First DC Movie Is Borrowing a Risky Trick from The Batman
Can Superman: Legacy work without its hero's backstory?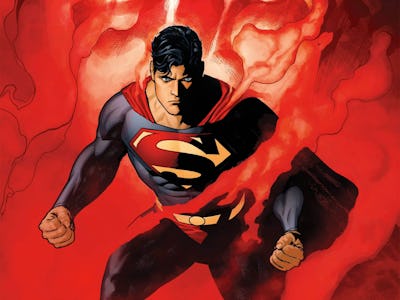 DC Comics
Superman: Legacy is still far from its 2025 release date, but it's already shaping up as the most radical depiction of the Man of Steel. Each update offers incremental insight into writer-director James Gunn's plans for this all-new Superman, and while Legacy is definitely going back to basics in many ways, Gunn will branch from the traditional Superman story with at least one key element.
As Legacy locks down its casting and inches closer to production, one big question remains: will the film explore the character's origins, or introduce a more seasoned Superman? Gunn has been stingy with details, but he doesn't seem particularly keen on rebuilding the hero from scratch like Man of Steel did a decade ago. Still, many fans assumed Legacy would at least address Superman's origins on Krypton, or his childhood in Kansas. Recent comments from Gunn, however, have all but confirmed that the filmmaker is avoiding any aspect of Big Blue's backstory.
While Gunn hasn't released specific plot points, he has discussed the film and its progress on social media. The filmmaker responded to curious fans on BlueSky, and addressed a request to adapt Superman's brief origin story from Grant Morrison and Frank Quitely's All-Star Superman. "I think we've seen his origin enough in film at this time," Gunn said.
Superman: Legacy will likely jump right into the hero's tenure as Superman, avoiding any depiction of Clark Kent's life before he donned the red and blue. According to Gunn, "no young Clark" will appear in the film, ruling out flashbacks of his childhood in Kansas.
It seems like Gunn is taking a streamlined approach to Superman's story. Legacy could be inspired by Matt Reeves' The Batman, which introduced its Caped Crusader early in his career, but didn't rehash the tragic details of his past. That said, this approach worked because Bruce Wayne's childhood trauma — and his first steps as Batman — are so ingrained in the public zeitgeist. Superman's origins, however, have only been depicted twice in live-action: once in Superman in 1978, and again in Man of Steel. Unlike Batman, casual fans aren't acquainted with the details of his past. Gunn assumes his audience knows everything he does, but that might set Legacy up on a shaky foundation.
Superman's origins are also crucial to his development as a hero. He represents the best of two worlds, Krypton and Earth, so any adaptation needs to address those worlds in detail. That's especially true since Legacy will, according to co-writer Peter Safran, see the hero "balancing his Kryptonian heritage with his human upbringing."
Superman's story is an archetypal immigrant tale, and if Legacy doesn't plan to depict his immigration, how can we expect this story to work? Gunn's resume is impressive, and he's earned a long runway. But for better or worse, DC's new era is starting with a bold risk.