Barry Season 4 Delivers an Unpredictable and Flawless Series Finale
Bill Hader's career-redefining show is back for one last ride — and better than ever.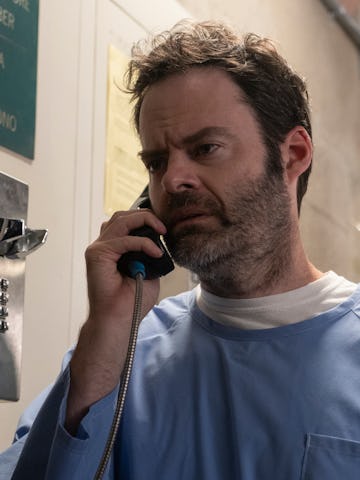 Merrick Morton/HBO
It took four years for Bill Hader's old partner in crime to get a role on Barry. In an early episode of the HBO dark comedy's fourth and final season, another beloved Saturday Night Live alumni finally makes his debut in the show's twisted universe. Like almost everything about Barry Season 4, it was worth the wait.
To say too much more about it would be a pretty big spoiler, but like so much in Barry, this cameo manages to both meet and defy any expectations you might have. Is he funny? Yes, but that comedy is capped off with a violent twist that's too brutal to be played for laughs even in the hands of two of the best comedians around.
The same goes for everything in Barry Season 4 (at least based on the first seven episodes provided for review). As the show races to its big finale, Barry remains as violent, hilarious, and brilliant as ever. But as the HBO series also reveals, Bill Hader still has a few tricks left to play.
From the very beginning, the series about an ex-Marine turned hitman turned hopeful Hollywood actor has challenged our conceptions of Bill Hader the comedic genius, best known for SNL bits like Stefon. Hader plays the titular Barry Berkman with darkness and pathos, only dipping his toes into comedy when absolutely necessary. The show's laughs — and there are plenty — often come from sight gags, absurd situations, satires of the entertainment industry, or the show's many incredible supporting characters. (Anthony Carrigan's bumbling crime boss NoHo Hank and Stephen Root's manipulative handler Monroe Fuches have been standouts since the very start.)
By the time we reach Barry Season 4, the landscape has changed. Season 3 ended with Barry behind bars after his acting teacher Gene Cousineau (Henry Winkler) turned him in. Meanwhile, Gene is in hiding, while Barry's ex-girlfriend Sally (Sarah Goldberg) tries her hand at being an acting teacher. Fuches is also in jail, while NoHo Hank is trying to retire from his life of crime. It's an intriguing new status quo (Sally's failed attempt to teach acting with the "Cousineau Method" is particularly entertaining), but it doesn't last long.
I won't venture into spoiler territory, but it should come as no surprise that Barry Berkman doesn't spend all of Season 4 behind bars. Where the show goes from there, however, will surprise you. Midway through the final string of episodes, Barry borrows a classic trope of the TV finale. (Sorry, no spoilers here!)
This plot device gives the entire cast a chance to explore new dimensions of their already complex characters, but it works particularly well for NoHo Hank and Fuches, who go through shocking transformations and emerge like Pokémon evolutions of their Season 1 selves. Meanwhile, Henry Winkler is basically still just the same hilarious shyster, while Sarah Goldberg proves she's always been the beating heart of Barry.
Of course, Barry Season 4 is still funny, even hilarious at times. There's an extended bit about budget cuts and the price of a missile, along with a long debate about which Fast and Furious movies would work best for drowning out the sound of a man's head being chopped off. It's the kind of sequence that only a show like Barry could deliver, and one of the many reasons we're sad to see the HBO series come to an end — even if it's doing so in the best way possible.
Barry Season 4 premieres April 16 on HBO and HBO Max.